Online doctor stamp: create a unique layout for yourself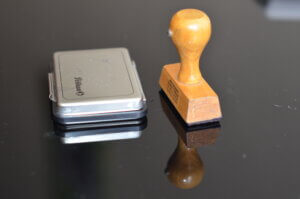 Our doctor stamp software is widely used in the layout and printing industry. If you need to create a basis for printing, then this set of utilities will help you solve this problem. Using the presented program, you can easily add doctor seals, as well as create your own stamp layouts, which can later be printed on a home printer or on professional equipment. You will be able to use the print you create for professional purposes. You can also make fake stamp if you need to make a funny gift to your friends or colleagues.
Compliance with official requirements
You can create a print in an online constructor without the services of a designer and visit a copy center. At the same time, it is important to take into account the requirements for the shape, font sizes, and cliches, the presence or absence of the coat of arms, the legality of the indication, etc. Experienced copy center employees will advise on this issue and clarify the list of required papers for ordering a product. Our doctor rubber stamp creator is suitable for both formal and custom solutions.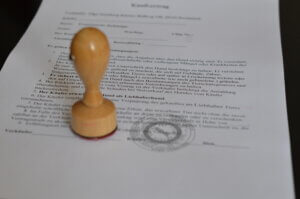 Use the image designer stamp image designer to create a layout for free. Such a layout is suitable for individual entrepreneurs whose cliché design is less limited, as well as LLCs that are allowed to place their own logo, emblem, and contact information on the cliché. The constructor of the round doctor rubber stamp online will be useful for the presence of the necessary external and internal borders, texts, and standard sizes of the diameter of the print. It will be required for products that are made in accordance with GOST and with protection against counterfeiting.
Add your picture to the site for editing. The toolbar will link:
External edging.
Outer border text.
Internal piping.
Inner border text.
The cost of printing with tooling depends on the materials, the timing of the order. Images over a complex impression will require an additional investment of time, effort, and consumables. If you are looking for a stamp maker, then we suggest using our rubber stamp designer.
Every physician is required to have a stamp that clearly and clearly reads his or her name. In addition to this information, such a seal may contain various medical symbols, which do not have a specific mandatory pattern but can add visual info to the resulting impression of a doctor's rubber stamp.
Technique for making doctoral stamps
Manufacturing of medical seals is based on advanced techniques - vulcanization, laser engraving, flash curing of photopolymers. The selection of the technique for creating a stamp product is carried out taking into account the material chosen by the customer. They can be:
Hard rubber, the impression on which is formed by a laser;
Photopolymer;
Highly porous material that allows doctors to use paint-filled stamps.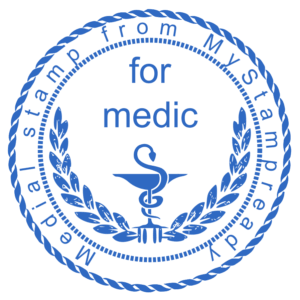 The second most important task in the manufacture of doctor's rubber stamps is the selection of the design of the print. In the development of medical seals, we rely on existing regulations, therefore our seals are round, triangular, rectangular in shape, have standardized sizes and diameters. Our stamp generator will help you create the optimal solution for your job.
Most common questions
Below we present a selection we have created, where we provide answers to the most common questions about medical stamps.
Are signature stamps legal?
Yes, the stamp we have created is completely safe and ready to use.
Can I make my own stamp?
Yes, with the help of our stamp online maker you can create a unique stamp for your work.
Do doctors have stamps?
Most doctors prefer to work with unique stamps made especially for them.
Do doctors use these stamps?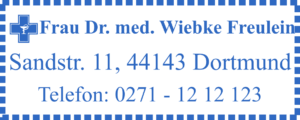 Most doctors use the stamp signature in their work. Making doctor stamp image examples is a service that is relevant for all medical workers who have diplomas confirming the right to conduct clinical practice. Dentists, therapists, surgeons, neurologists, psychiatrists, and doctors who have acquired other specializations in the course of professional training can order a stamp.
We suggest using our online stamp maker, which will allow you to create just such a medical stamp that will meet your requirements.
How do I get a stamp for my signature?
To get your own unique signature stamp, you need to use the functions of our constructor, which allows you to choose the font and shape. This template can then be printed and used as a basis for creating your own ink-powered print.
How much does it cost to get a custom stamp made?
The cost of making a seal depends on a number of factors: shape, size, the complexity of making the mockup, materials of manufacture, and much more. To estimate the cost of the stamp, you need to show the layout in the printing office and clarify the cost of manufacturing such a solution.
What does a doctor's stamp look like?
A medical rubber stamp is a round stamp image on the back of which the doctor's name and sometimes occupation is displayed. Medical stamps are usually in the following forms:
●   round stamp ;
Each information has its own worthy design. For quick registration of documentation, for the provision of informational outgoing letters, for forms and confirming medical procedures, examinations, or appointments in this particular clinic or office, medical stamps are used.
What does a doctor's letter look like?
The letters for the doctoral rubber stamp can be selected both individually and in an ordinary order. The main thing is that they correspond to the ideas of the doctor himself. Well, of course, you need to remember about readability. Too fanciful letters are not the best solution for a practicing doctor.
Conclusion
If you still have not decided where to get a doctor stamp for your work, then we recommend using our convenient online stamp maker. It is designed to provide you with a convenient way to get the results you want, which you can formally use in your day-to-day work. Use our constructor and create a unique seal for yourself!
More information is in our blog as well.
Date of publication 2021-11-15