Designer of stamps is a graphical editor designed to create, view, and edit layouts of stamps. As a rule, the designer interface allows you to create layouts without having additional skills of using professional graphic editors as CorelDraw, Adobe Illustrator, Adobe Photoshop. Many designers implemented the function of selecting the material of manufacture and tooling for the final product.
Online round stamp image maker free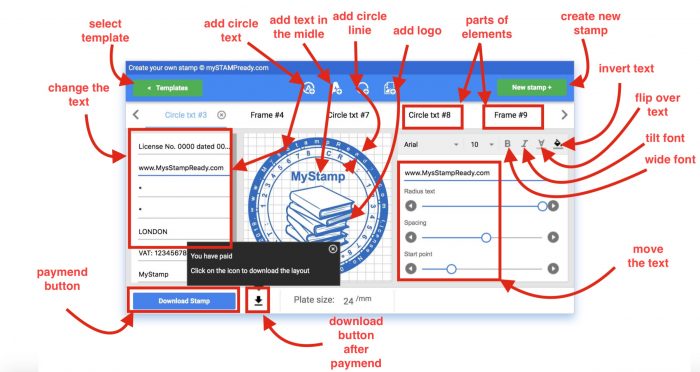 Classification:
By type of graphic format:
Vector. The layout is a vector image. The most common among manufacturers, which is due to the input parameters of the equipment.
Raster. The layout is a bitmap.
Hybrid. The layout is a vector image, but there is a function to export to raster formats.
The form layout:
Mono-shaped. That's possible. design only one shape: circle, oval, rectangle, triangle. For example, the most common designer of round seals, opposite the designer of triangular stamps is less common than all the others.
Multi-shaped. It is possible to design two or more forms.
Main functions:
The placement of the text;
Image placement (logos, photos, patterns, etc.));
The placement of the text in the form of a figure (frame from the text);
Text formatting (font, font size, color, 180°rotation);
The positioning of elements within the working area of the layout. Resize.
Additional functions:
Choice snap of the final product;
Ability to specify the type of material from which the work surface should be made;
The ability to choose the time of manufacture.
History
Before the advent of computers in order to make a seal or stamp, the layout was drawn by hand.
With the development of computer technology, there were specialized programs, the functionality of which was reduced to a single purpose, the design of the layout of the print or stamp. These were the first designers of seals and stamps. But wide distribution among manufacturers didn't receive, many designed the models in professional graphic editors (that in turn demanded certain skills).
The development of e-Commerce contributed to the emergence of the first "pseudo" designers online. All the work of these designers were limited to the collection of information (details of the organization, the logo, the pattern number, material, tooling), and resembled the form of Swazi. Based on this information, the manufacturer designed the layout in a graphical editor. Developing, web technologies, allowed to creation of full-fledged on-line designers who have a visual display of the layout and allow to make changes of the layout in real-time.
More such stories, you can read in our blog! Develop, read, learn together with mystampready.com!
Date of publication 2019-08-07