Seals and stamps entered the history of mankind at the first need not just to create a single image, but also to multiply it. Different people unequally used in this invention. Add a bit of history and African flavor to our blog about seals and stamps and talk about the symbols of adinkra.
Symbols of adinkra used in Africa by a group of Ashanti peoples, living in the Central part of Ghana, as an analog of the familiar letter. Like hieroglyphs, these symbols carry many full meanings. This is their distinctive feature in comparison with the letters of the alphabet, which acquire their own meaning depending on the context and combination with each other.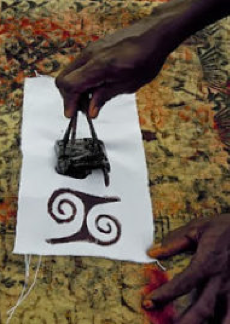 Adinkra used by local craftsmen for packing cloth, they can be seen on pottery, or an ornament on the walls of temples. In ancient times, the seal could be made armed with a piece of wood and a pointed object. But not everyone was doing it. Sometimes by printing the wizard was much easier than trying to do it yourself. Made of wood stamps dipped in paint and left a picture on the fabric. To fix it, you had some time to hold the material over the fire - so the paint is better imprinted and longer remained on the fabric. At the same time, the size of the print, the shape, and what was depicted depended on the imagination of the master and the manufacturer. But nowadays anyone can create a seal or stamp in online stamp maker.
Modern Ashanti perceives adinkra as an element of their own cultural identity, but few people can easily read them. Each family has objects decorated with symbols and inherited. They are considered family heirlooms and are carefully preserved. Now create the seal itself is not difficult. Small symbolic images are still applied to clothing and household items, although not everyone is able to recognize the value of a particular element. This can be compared with traditional ancient Slavic symbols used in embroidery, or with hieroglyphs of Egyptian pyramids.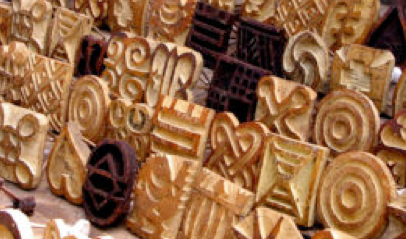 We managed to collect some values of the most common characters in adinkra.
The main symbol is represented as three rings placed one in the other with increasing size. It stands for leadership, greatness, and charm;
The depicted palm tree will mean flexibility, vitality, and well-being.
Horn of war called "AKABANE" means devotion to the people;
The symbol of the heart "Akoma" depicts tolerance, love of neighbor, and joy;
"EPA" - a symbol of slavery and coercion, as well as payment for the crime. His image resembles shackles or handcuffs;
"Fofo" is around print with a flower pattern. This plant Ashanti has long been associated with envy;
The symbol of the crest is called "Guava". He is credited with the value of purity and female perfection;
"Nsoromma" - a symbol similar to a star. Means being chosen by God. The reality around us is far from ancient Africa with its symbolic meanings. We use stamps more in business life, working with papers and documents. Now easier to download the seal than sit with a knife and a piece of wood in the hands of. Use the online designer of seals and stamps to create your own distinctive sign. It's easy to order printing online in just three steps. With the help of the online designer of seals and stamps, you can make any print sketch and choose the appropriate manufacturer. You can edit ready-made print templates or create your own version. Try on mystampready.com
Date of publication 2019-09-10