Do you need a Stamp maker program in modern conditions
All
Auto-Moto
Audio-Video
Business
Design
Home, Family , Kids
Animals, Plant
Internet
Arts, Fashion
Computer
Medicine
Music
Science, Studies, Education
Rest, Entertainment
Law, Economy
Religion
Agriculture
Construction, Real estate
Engineering, Technology
Tourism, Travel
Enthusiasm, Hobby
Finances
Hoteis, Restaurants
Monuments
Transport
Sport
Nature
Russia

/Россия

Ukraine

/Україна

Kazakhstan

/Қазақстан

Lithuania

/Lietuvos

Armenia

/Հայաստան

Belarus

/Беларусь

Uzbekistan

/Ўзбекистон

Spain

/España

Germany

/Deutschland

Poland

/Polska

Slovenia

/Slovenija

Estonia

/Eesti

Kyrgyzstan

/Кыргыз Республикасы
Unfortunately in your city there are no registered manufacturers
Without handle
Thank you, Your order is working! We'll call you soon.
You can continue edit stamp or create new
Select the shape of stamp
Have you checked the spelling?
Please note that the manufacturer is not responsible for spelling errors and the correctness of the entered data.
In the elements [ ] are missing text in the input fields. Enter the text or delete an item by clicking the cross next to the item number
You want to download the print layout
PROMO

2.5 $

PNG Format
High Quality
Transparent background
View
Download
ECONOM

3.5 $

Format PNG + SVG
High Quality
Transparent background
Scalability
Download
PREMIUM

4.5 $

PDF + SVG + PNG
High Quality
Transparent background
Scalability
Download
GOLD WORD

5.5 $

DOCX+PDF+SVG+PNG
High Quality
Transparent background
Scalability
Download
In order to continue, pay 63
After payment, a button will appear in the stamp generator

to download the layout, the same layout will be sent to your mail(If the button does not appear, refresh the page by F5).
Specify your e-mail
If the payment page does not open, do the following:
1. Disable the Adblock plugin (or other ad blocker.
2. Clear your browser cache
3. Temporarily disable ad blocking in the firewall (antivirus) settings
You want to save the stamp layout
Write to your mail with a link to the saved layout.
To display the stamp designer of the mobile version, click on the button below
Stamp designer
Seals and stamps are used today in almost any field of activity. Individual entrepreneurs, various commercial entities, doctors, notaries, and many other contractors use seals in their activities. Therefore, a lot of people are daily looking for how to make a seal for themselves. In this note, we will look at the disadvantages of the usual methods and talk about the modern solution to this issue. Now you can download the Stamp maker program for free, install an online constructor, or just come to the company.

Just order from the company
In this case, you need to come to the printing company that is engaged in this activity. There you will talk to the Manager and they will offer you various options for the impression. The drawback is obvious. You need to come to the organization yourself and spend time selecting options. Then you need to leave the order and come back for it after a while.
Although here the Manager in principle does not do anything special, but only uses the software and blanks that are available in the company. Usually, such companies have a large selection of pre-made templates.
Stamp maker (the program)
There is a specialized program for making impression templates. You can download the stamp maker program for free, install it on your computer, and create seals and stamps.
However, in the original version, the program is paid. In principle, torrents are always at hand and you can find a "crack" version of the program. But in this case, you risk getting a virus on your computer or some advertising applications in the load.
Even if you find a working and safe version of the Stamp program, it is most likely outdated and the functionality will lag behind modern requirements. If you earn money by creating stamps and seals, you can purchase a modern commercial version of the program. But these investments do not make sense since there is now another solution.
A much more interesting and useful tool is the online stamp constructor. We will tell you about it below.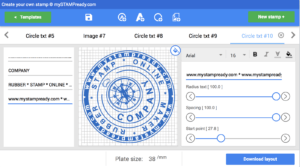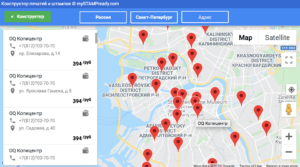 An online designer for creating layouts for making stamps is a software that is installed on an Internet resource. It can be compared to a graphic editor. Such applications are not uncommon now. For those who are engaged in the production of seals, it will be a very useful tool. Despite the fact that the stamp program can be downloaded for free, it is better to choose an online editor.
Your customers will simply go to your site, create a layout there themselves, and send you an order. As a result, you can significantly reduce the cost of maintaining employees who receive clients in the office.
It is very easy to adapt an online constructor for your own purposes. If you are engaged in the production of stamps and seals, then register on the site mystampready.com/ru please log in to your personal account and copy the widget code for your site. It will appear on your site as a frame that users can interact with.
In your personal account, you can add the cost of services and various options for accessories. It turns out that in a few minutes of work, you get a ready-made constructor on your site, which will be used to create seals and send orders.
The email address that you specify in the settings will receive orders from customers in the form of a layout in SVG format. It will also contain the customer's contact information and equipment. After that, all you need to do is contact the customer, agree on the production, and place an order.
If you yourself need to make a layout, you just make it on your site, and then send the order. The advantages include the ability to edit any layout that you will be sent to the user. You can also do this in your personal account. In principle, nothing prevents you from downloading the stamp program for free and having at hand another tool for making a cliche layout.
Moreover, you can make a cliche from your personal account or use an SVG file by opening it in a graphics program. As you can see, the stamp program and the usual trip to the printing company are yesterday. Now an online constructor is relevant, which allows you to do all this much faster and more conveniently.
Date of publication 2020-04-06