In this note, we will talk about how to make a doctor stamp that is used in various medical organizations. They have certain requirements, and people often get confused about them. We will try to figure out what and how should be written on the medical cliche. In addition, we will find out what the size of the impression should be. The seal of a doctor is an important part of the work of physicians. Therefore, you need to seriously approach the issue of its production.
What are the requirements of a medical seal?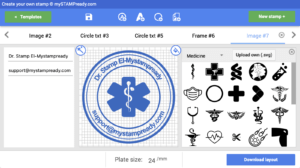 Those of us who have experienced medical care in one way or another must have noticed the variety of seals. Even in one medical institution, there can be a large range of all kinds of impressions. This is not surprising since many different medical specialists work in the same medical institution with their own seals.
Recently, there have been no new or additional requirements for medical seals. Therefore, they are still in the same form. The main requirements are listed below.
* Full name and patronymic of the medical specialist. They must be applied in the nominative case.
* The doctor's specialization must also be specified. If the specialization is not written, then just put the inscription "doctor".
* The cliche should have a round stamp shape with a diameter of 20-40mm.
These are the main requirements for the impression of a medical specialist. Nothing more is required by law from such seals.
Some optional information that can be added to the impression is listed below.
* The logo of the medical plan with a snake or the brand name of the medical institution.
* Medical license number.
Manufacturing of medical stamps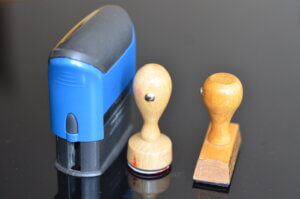 As a material for personal medical doctor stamp usually uses polymer or rubber. This ensures a long service life, as well as resistance to external influences. Naturally, for ease of use, the cliche is attached to some snap-in. This is often a metal or plastic handle. Making a doctor seal with an automatic snap-in is less common. At the same time, it should be strong, since it is used quite often. After all, the doctor sees several patients during the day, which puts an impression on prescriptions, cards, and statements.
The service for the production of medical cliches can be found in any printing or stationery company that is engaged in such activities. To do this, you just need to contact the Manager and together with him, choose the necessary impression from the templates. Naturally, standard blanks can be changed to meet your requirements.
In most cases, the client does not need to come up with anything, because there are a variety of templates for the basis. Those firms that have been working on the market for a long time know what requirements customers have for seals. So they already have all the necessary sizes of the stamp templates.
Another important point is the choice of snap-in. If you plan to use the doctor's seal frequently, it is better to make a doctor's seal with an automatic snap-in. These models contain a built-in inkwell, so you don't have to dip the cliche every time. This will be done automatically. If the volume of the seal will be small, it is possible to manufacture a plastic or metal snap-in. Naturally, the metal lasts longer and is more reliable.
After you select the required size, stamp text, and snap-in, you make the order. The seal itself is made as quickly as possible. Since the services are widespread, it is quite inexpensive.
Manufacturing and order doctor seals online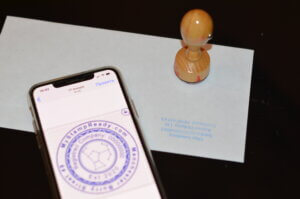 It is much easier, faster, and cheaper to create a doctor stamp image online. To do this, go to the site mystampready.com. for these purposes, there is a special online constructor. It allows you to create a doctor's seal by yourself in real-time.
You don't need skills in graphic editors. All you need to do is enter the appropriate text, adjust the size and font, and select the seal size that you need. Everything else is an online doctor stamp generator does himself. As a result, in a few minutes, you already have a ready-made result in the form of a template. If necessary, you can upload an image.
After creating the template, you only need to make a doctor's seal and order on the site and after a certain time pick up the finished medical stamp of a doctor in Moscow. I agree that this is much easier and faster than going to a certain company to select an impression. And then go back there to get the seal.
More information in our blog.
Date of publication 2020-02-17