Make a stamp online and start your own business part 2
All
Auto-Moto
Audio-Video
Business
Design
Home, Family , Kids
Animals, Plant
Internet
Arts, Fashion
Computer
Medicine
Music
Science, Studies, Education
Rest, Entertainment
Law, Economy
Religion
Agriculture
Construction, Real estate
Engineering, Technology
Tourism, Travel
Enthusiasm, Hobby
Finances
Hoteis, Restaurants
Monuments
Transport
Sport
Nature
Russia

/Россия

Ukraine

/Україна

Kazakhstan

/Қазақстан

Lithuania

/Lietuvos

Armenia

/Հայաստան

Belarus

/Беларусь

Uzbekistan

/Ўзбекистон

Spain

/España

Germany

/Deutschland

Poland

/Polska

Slovenia

/Slovenija

Estonia

/Eesti

Kyrgyzstan

/Кыргыз Республикасы
Unfortunately in your city there are no registered manufacturers
Without handle
Thank you, Your order is working! We'll call you soon.
You can continue edit stamp or create new
Select the shape of stamp
Have you checked the spelling?
Please note that the manufacturer is not responsible for spelling errors and the correctness of the entered data.
You want to download the print layout
PROMO 2.5$
PNG Format
High Quality
Transparent background
View
Download
ECONOM 3.5$
Format PNG + SVG
High Quality
Transparent background
Scalability
Download
PREMIUM 4.5$
PDF + SVG + PNG
High Quality
Transparent background
Scalability
Download
GOLD WORD 5.5$
DOCX+PDF+SVG+PNG
High Quality
Transparent background
Scalability
Download
In order to continue, pay 63 $.
After payment, a button will appear in the stamp generator

to download the layout, the same layout will be sent to your mail(If the button does not appear, refresh the page by F5).
Specify your e-mail
If the payment page does not open, do the following:
1. Disable the Adblock plugin (or other ad blocker.
2. Clear your browser cache
3. Temporarily disable ad blocking in the firewall (antivirus) settings
You want to save the stamp layout
Write to your mail with a link to the saved layout.
To display the stamp designer of the mobile version, click on the button below
Stamp designer
Do you want to start your own business? You definitely need to make a stamp.

All serious documents in the organization are confirmed by a seal.

Seals are made of various materials. Modern materials for manufacturing are polymers and rubber. The seal confirms the authenticity of documents or various agreements and contains information about organizations and individuals who sign documents.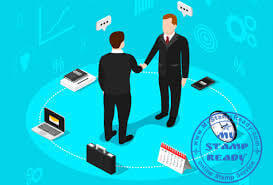 Seals come in various shapes and purposes. For example, a round seal with

a coat of arms (armorial). Rectangular seals contain information about the institution, such as a stamp with the Bank details of the company. Triangular – used for references and documents intended for internal use. There are seals in the form of figures of birds and animals, plants, in the form of crossed letters with fancy monograms.

Recently, another type of stamps has become very popular-

facsimile. Impression of the person's signature. Usually, facsimiles are used by

managers, so they do not need to manually sign large volumes of documents anymore. However, for some documents, the use of a facsimile is not allowed.

Seals have been known since ancient times. Presumably appeared in the East

(Ancient Egypt and Babylon) with the development of trade and were used to seal contracts. Make a stamp was not easy. For manufacturing, complex methods of applying the image of the stamp to various materials were used. It took a lot of

time.

Now with the development of computer technologies and the Internet, you can easily make a seal. Stamp layout it is a picture that is drawn using special program: stamp creator. Then the finished product is made of a photopolymer or rubber. In order for the stamp to leave an impression on the paper, special ink or stamp ink is required. Stamp paint comes in various colors: blue, lilac, black, red, and so on. the Most common colors are blue and lilac. A stamp creator is a program that allows you to create a layout without using image editors. Working with the seal designer is very simple.

You do not need any special skills for working with graphic editors or special artistic abilities. Developers have prepared

a unique template. Users select the form, size, and enter information about the organization or person. The result is a layout in various formats (.png, .svg, .etc.). Many stamps creator allow you to select a snap-in and

material of manufacture.

Seals and stamps have different snap-ins. There are pocket, manual, and automatic seals. Pocket seals are convenient to carry in your pocket or purse. The flip-up lid has pads in which the cliche is dipped. This form of snap-in is not very convenient for the office and working with a large number of documents. In the office, it is better to use automatic snap-in. The easiest and cheapest option is manual snap-in. In this case, a stamp pad with special ink is required.

In the age of information technology, you can create a seal even from the comfort of your home. Seal designer is the application where you can create a stamp online and then simply order it to be made. As a rule, seal designers work for free. The user goes to a special site and creates a stamp layout. You can also create a seal without the client using the seal generator. The seal generator requires minimal client involvement in the process. Payment is taken for the manufacture of the product. The courier will deliver ready-made stamp at any convenient time and place. Creating a seal online is simple and easy.
Date of publication 2020-02-07