Personalizing papers, letters, files, labels, and all other types of professional and personal documents is quick and simple with custom name stamps. MyStampReady, one of the best stamp maker, offers a selection of rubber stamps that are entirely individualized with your name, from logo signature stamping to creative artwork name stamps.
To help you in getting started, we've put together this comprehensive reference on name stamp kinds, applications, and our most popular name stamp designs: 
Stamps by name types
There are many different types of personalized name stamps that may help you accomplish your goals, whether you want to sign documents with your signature quickly or you want to add your distinctive monogram to your correspondence.
Authentication stamps

First-day covers

Children's Drawings & Name Stamps
With a single swift stamp, signature stamps enable you to clearly and quickly approve papers and documents. There are several signature stamp possibilities available in a range of sizes and designs. Below are some of the most well-liked varieties of personalized signature stamps that are available in the
online stamp maker
store:
Traditional signature stamps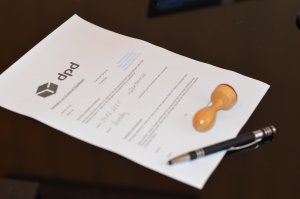 Signing off on papers and documents is simple, quick, and efficient when using this traditional stamp design. Everyone, from professionals with busy schedules to people who have trouble writing by hand, may benefit from simple signature stamps.
Signature and date stamps: These editable stamps include movable date bands so you can quickly and precisely stamp your signature and the correct date on all of the paperwork.

Signature and Printed Name Stamps: This stamp type provides both a signed signature and a legibly typed imprint of your name. It includes your printed name above or below your distinctive signature.

Signature and logo stamps: These personalized stamps are perfect for promoting your business with each expert imprint as they feature both your signature and the logo.
Read More:- How to become a Notary Public in the USA
A guide to making your own signage stamp
It's simple to make your own personalized signature stamp. To get started, look at our step-by-step instructions:
Choose your preferred stamp style and type first
Next, use a felt-tip pen to write your name legibly on a piece of white paper. Make sure your signature is at least one inch long and typed precisely as you want it to appear on your stamp impressions.
Choose your customization choices, such as the ink color you like, then upload your scanned signature in one of our accepted file types. We'll take care of the rest! Your rubber stamp will be hand-assembled by our stamp assembly specialists, who will also ensure that it is of the highest quality before sending it off.
Initial stamps
Initial stamps are a quick and simple way to make impressions of your unique initials. They resemble signature stamps. Initial stamps are a portable, easy, and practical way to leave your imprint, whether you're a professional on the go or searching for a method to quickly designate your personal belongings.
Make your own original stamp: But how?
Your initials show off your distinctive handwriting and signature mannerisms. Just as simple to make as a customized signature stamp is an initial custom stamp that represents your unique initials. To get you started, here is our step-by-step tutorial on how to make your own unique initial stamp:
Sign your initials legibly at a size that is suitable for you with a dark ink felt tip pen on white paper. We will adjust your letters to fit your stamp.

Upload your initials in one of our accepted file formats to your bespoke initial signature stamp purchase.

Choose the ink color you desire.

Send in your order! Your initial personalized stamp will be expertly made and shipped out fast, so you can begin stamping right away!
Uses of popular original stamp
The following are some of the typical uses for your own initial stamp:
Approving official papers and work-related tasks

Completing personal forms and files

Simply write your initials on books and clothes labels for easy access

Your initials on DIY and artistic projects

Different initial stamper types
Initial stampers are available with a wood handle, a self-inking stamp body, or a pre-inked stamp body.
Read More:- How to create a stamp online and use chocolate seal for your birthday
Timber-handled stamps
Rubber stamps with wood handles are the most affordable choice for your initial stamper. This sort of stamp has a wide range of size options and works with all types of ink, providing you additional options for how to utilize it.
Stamps That Self-Ink
Self-inking stamps include a changeable built-in ink pad, so you don't need to manually ink the stamp. These ink pads have a thousand imprint capacities each.
Inked-Up Stamps
Pre-inked stamps have ink already incorporated into them, as the name suggests. Self-inking stamps no longer require flipping action due to this, making them a quick and effective option for high-volume stamping. 
Personalize your name stamps
You have full control over your stamp with our bespoke design-your-own rubber stamp models. For a one-of-a-kind, personalized name stamp design, select your preferred stamp type, make your design, and decide on your impression size!

Read More:- How to put on your website a designer of stamps and seals for free.
How to create your own personalized name stamp
Here are our detailed instructions for creating your own name stamp:
Decide on the stamp type: Custom stamps can be purchased in self-inking, pre-inked, and wood handle varieties. Select the stamp type that best suits your requirements.
Choose the ideal stamp size: Custom stamps come in a range of sizes. When choosing your size, consider how you want to use your name stamp.

Selecting an ink colour: You can choose the color of ink for your stamp impressions if you're getting a self-inking or pre-inked name stamp. Colorful ink pads are available separately if you plan to design a stamp with a wood handle.

Design your object: With unique fonts, designs, photos, and logos, you can easily create your own name stamp at Simply Stamps with our custom creation tool.

Make your purchase: We will create your custom rubber stamp when you make your order for a custom name stamp!
Inspirational & design ideas for custom name stamps
To help you become creative with the name stamp design, here are some of the favorite design concepts and sources of inspiration:
Make a name stamp for your family or a couple.

Create a name stamp that reflects your style by utilizing your preferred fonts.

Your name or

monogram

can be combined with distinctive design features.

Upload pictures or your logo to create a name stamp with authority.
A name stamp for a child
Kids may use name stamps as a handy tool too! There are many different types of personalized name stamps that include your child's name, from kid's address stamps to unique artwork stamps.
Some uses of custom rubber stamp
Create your own labels for bins, boxes, and more with personalized name stamps!

Your at-home tasks and activities may be made simpler and more effective by name stamps. The following are some of the best uses for name stamps at home:

Using a signature stamp makes routine chores easier, such as signing for goods.

Custom return address stamps with a monogram let you send out letters with style.

Toys, containers, and individual belongings for children can be marked with personalized name stamps. Create a unique name stamp for each member of the family to simplify organizing!

Custom name artwork stamps may transform crafts and artwork into mementoes.
Initial stampers are excellent for both private and professional use. These stamps make it simple to complete papers or give stationery a personalized touch. You can get the initial
rubber stamp online
or offline store in the local market.
Date of publication 2022-09-03