Stamps are considered a way to send a letter in different areas, including domestic and international routes. When we send a letter, stamps are needed to attach or put on the letter according to the destination, weight, and even the size of the letter. On the other hand, rubber stamps are used in offices to give the official parcels and documents proper identification and authorization. Those office rubber stamps are also used for rejecting or accepting various types of official documents and papers. Among those different types of stamps, Monogram Stamps are very important for different reasons.
There are several specific tasks when you need the Monogram Stamps, so let us talk about those crucial and popular stamps in an elaborate way.
What is a Normal Stamp?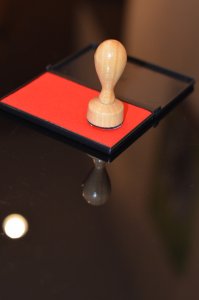 A normal stamp or rubber stamp is a particular image or pattern that has been carved, molded, vulcanized, or engraved on a piece of rubber sheet. Rubber stamping is a craft in which various inks are needed, which are a special type of pigment or dye. This dye can make your stamps really attractive.
To apply this rubber stamp, you need to press the stamp onto an ink pad and then put the mark on the document with which you wish to deal officially. Thus, you can easily use your own rubber stamp whenever you need it.
Read More:- Create a rectangular rubber stamp design
What is a Monogram Stamp?
Monogram stamps mainly combine the full name or the initials of a business or an individual into a specific motif that can be printed whenever that person or business needs to create its own marks. Those stamps are widely known as monogram stamps. These kinds of stamps are both fun and useful for various types of settings, including both personal and office use. You can even use your own online monogram stamp or custom monogram stamps with the help of an authentic and professional stamp maker like MyStampReady, according to your preferred pattern and style.
History and importance of monogram stamps
Monogram stamps first came into use on Ancient Greek coins to mark the place which was the origin of the currency. Through the years, those monogram motifs became a sign of aristocracy and nobility. Moreover, many artists started to use those types of marks to distinguish their works. Today, most companies or fashion brands to individuals can use their own personalized monograms. These signs or symbols play a crucial role in branding for companies and also in customization for individual gifts, documents, and housewares.
If you are running a business, with the help of a monogram address stamp, you can create your own signature to remain in the minds of your customers. These stamps can also save your time and labor, as you don't have to write every single detail about your company on all documents or parcels; only giving a stamp can serve all those purposes at once. So, with monogram stamps, you can easily give your official and personal documents a classy look and proper authorization. 
With the help of an authentic and reputed stamp maker, you can easily make your own custom monogram stamps and run your business successfully. The only thing you need to do is to select an attractive yet meaningful symbol to express your business name or purpose.

Read More:- How to put on your website a designer of stamps and seals for free.
What are the uses of monogram stamps?
Monogram stamps can be used for different purposes; some examples are:
If you have ever borrowed a book from a library, you will know how important it is to mark the pages of the book with a particular sign that the book belongs to the library. In those cases, library stamps are used. Those stamps are an interesting way to give the books a specific identity and ensure their safety. The library monogram stamps can be of various patterns or styles, which can be very attractive. Thus, you can easily gift those stamps to your library teachers or someone who loves books and has a treasured collection of books.
Address stamps are those monogram stamps that add efficiency and speed to sending mails or letters by creating a clear impression of the rerun address on the envelope of that letter, parcel, or mail. You can easily create a monogram stamp with as many details as you want. You can also create your own
custom monogram stamps
with the help of the Stamp Designer Tool.
You can easily have your own monogram stamps to give a specific touch to the gifts which are made by you. These monogram stamps carry a special type of ink that can leave a clear impression on various types of surfaces, including wood and plastic.
If you are running a restaurant and give your food parcels a unique authorization or identification, you can use these stamps. You can print your own monogram stamps on the cookbooks or recipe cards while sharing your secret recipes so that the credit of your secret recipe will not go to any other chef or company. You just have to choose the specific kitchen-related design and create your own customized monogram stamp.
Read More:- How to create a stamp online and use chocolate seal for your birthday
Different types of monogram stamps according to their bodies
There are different types of body styles for a custom monogram stamp which you can use as per your requirements. Here are a few examples that can fit your stamp-related needs easily.
These types of stamps are pre-inked with the ink of your choice and can print more than 50,000 impressions before the ink gets all used up. These stamps are the best options for high-volume stamping, so you can easily create your own business logo with these Maxlight monogram stamps.
These are high-quality self-inking stamps that enable the users to choose their preferred ink colors at the time of ordering the ink. These stamps can give 7000 impressions before you need to re-ink them. These types of stamps are perfect for creating an impression on invitation cards and letters.
For your custom monogram stamps, these wood-handled ones are the best options. They offer a classy feel and look, and you can switch among various ink colors whenever required.
Read More:- Deposit stamps: what is it about it
Ways through which monogram stamps can save time
There are several ways through which your monogram stamps can save a lot of your time. Some of those are:
Help in verifying paperwork or documents
Signatures are a crucial part of every business. Whether your business is small or large, every profession needs signatures on a regular basis. If you have to sign hundreds of documents every day, you will need a lot of time to complete the task. In fact, in many cases, you may lose some of your crucial documents while bearing the huge burden of signing hundreds of documents within a single day.
With the help of monogram stamps, you can easily put your signature or a unique mark on the stamp and can leave bold and attractive impressions on those hundreds of documents within a very little amount of time. Thus, those custom monogram signature stamps can save both your labor and time while leaving your special mark on hundreds of papers with ease.
Depending on your individual business, you may need to send out shipments or letters on a daily basis. Whenever you need to send a shipment or package, you have to write the name, address, or other details of the company every single time. Thus, the task of writing all those details on each and every shipment can be both tiresome and time-consuming. 
So, by creating your own stamp that has the impression of all those important details, you can easily save a lot of your hard work. With those stamps, you can imprint the name and address or other details of your company on those shipments within a very minimum time.
If you are trying to sell your own products, you can always rely on custom monogram stamps. Those stamps can easily save a lot of your time by leaving a unique impression, logo, or design of your brand name or company on each and every product within just a few seconds. Thus, you can leave your personal touch on all your products without wasting your time.
Date of publication 2022-07-17