As 2023 approaches, a new year in a new decade, many customers and team members are increasingly interested in date stamps. What is a date stamp, and why would I benefit from it more than a custom text rubber stamp? It may be a question that many of you have. We at My Stamp Ready provide the best product of the lot, but right now, let us provide you with some detail knowledge on the topic.
Read More:- Create a rectangular rubber stamp design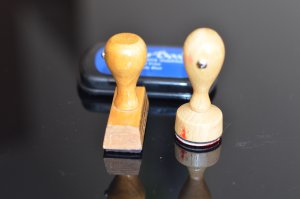 A date stamp is what?
Firstly, A date stamp, according to the dictionary, is a tool used to stamp a date, but let's provide a more thorough explanation. It's a rubber stamp with a date band that rotates in the middle of the stamp. You can manually alter the date to whichever one you want to appear on your documents by turning the band. The date stamps come in a variety of designs, from personalized self-inking stamps to conventional date stamps, and let you select from 12 consecutive years.
Standard date stamps or personalized date stamps?
First off, a customized date stamp is one that you may brand with your company logo, address, and even a name using online stamp maker. A rotational date band is included in the centre of each of our assortment of personalized date stamps, which come in a variety of sizes. Customized date stamps enable you to brand every document with your company's logo, raising brand awareness overall, presenting a professional demeanor, and ensuring that paperwork is consistent and simple to recognize for the recipient.
A standard date stamp is available right away for adding to your basket and checking out. Some of them are accessible with the date just, while others have a phrase and date impression, such as RECEIVED + 16 Oct 2023. They are pre-made. Since a conventional date stamp cannot be customized, it is ideal for use on practical documents like invoices, fresh food packaging, and inspection reports.
Read More:- How to put on your website a designer of stamps and seals for free.
What distinguishes a customized date stamp from a customized text stamp?
Your logo, important corporate information, address, name, and own design can all be included in your customized date stamp, just like you can with a personalized text stamp. The date will appear in the centre of your impression when you print on paper, which makes it ideal for signing off on critical documents or organizing your paperwork.
What advantages does a date stamp have?
Rather than writing the date by hand, it saves time and energy.

A faster method of document marking.

Legible - Simple to read and prevents misunderstandings brought on by handwriting.

Maintains accuracy and consistency in papers.

For use on both large and small papers, date stamps come in a variety of sizes and styles.

The rotatable date band can be simply changed to change the date.
How will date stamps be incorporated into my regular work tasks?
Any industry that wants to improve productivity and streamline tasks can employ date stamps. Documents that have been dated can be preserved chronologically in an accounting department or general office, making it simpler to find them later. Across the nation, warehouses have the option of stamping delivery dates or shipment dates. A date stamp helps maintain organization in a busy atmosphere like banks, libraries, and retail establishments, whether it be through checks, loan tickets, or loyalty programs.
Read More:- How to create a stamp online and use chocolate seal for your birthday
What options do I have for date stamps?
For heavy-duty, professional use only, customized Professional Date Stamps from Trodat can be made to reflect the brand of your business. Various sizes and shapes are available, ranging from "41x24mm" to "116x70mm."
Date stamps with a custom print
Lightweight, strong, and ideal for daily usage. Like the Professional series, Trodat's Printy Daters can be customized with a special effect. Printy date stamps seem to be the perfect size to keep in your pocket, at a busy checkout counter, or on your desk for professionals who are always out and about.
Standard date stamps that are self-inking
a quick and effective method for adding the date to sign documents. The self-inking standard date stamps from Trodat can print the date quickly and clearly and include 12 years' worth of dates.
Stamps with self-inking text and dates
In need of a stamp that prints the date together with typical business phrases? Your documents will stay organized and current with the help of self-inking text and date stamps from Trodat. Select from 'PAID,' 'RECEIVED,' 'CHECKED,' or one of Trodat's phrase daters that rotate through up to 12 phrases.
Traditional date stamps made of rubber
Want to print the date clearly and colour-code your documents? Pick one of Trodat's conventional rubber date stamps to use with your preferred conventional ink pad.
Customized Printer Dates for Colop Stamps
Colop's Self-inking Printer Daters are ideal for use in offices, warehouses, and the retail sector. They are available in sizes from "31x31mm" to "76x37mm" and can be personalized with your individual image.
Standard date stamps that are self-inking
Colop's Self-inking Date Stamp is a sturdy, useful date stamp that fits straight into your pocket and is there any time you need it. It prints the time clearly and effectively.
Stamps with self-inking text and dates
With Colop's Text and Date stamps, which come with widely used office phrases, you can mark your documents with a clear impression that will help keep your paperwork organized without using a separate ink pad.
The date band has to be changed
Simply rotate the stamp's internal wheels to change the day, month, and/or year to alter the date.
Changing Your Date Stamp
If you are experiencing problems printing, you can modify the height of your date stamp. Utilizing a screwdriver, turn the adjustment screws while the stamp is upside-down.
Rotate in a clockwise way to make a date more obvious.

Turn counterclockwise to decrease the date and increase text visibility.

Getting Rid of a Rubber Date Stamp
A self-inking date stamp can be cleaned by pressing it firmly down and locking it in place with the lock buttons on the side. To clean the rubber, dampen a towel or stamp pad with a stamp cleaner and rub it against the surface.
Read More:- Deposit stamps: what is it about it
How to Purchase a Date Stamp?
This is My Stamp. With our Date Stamp Wizard, you can quickly design and order a wide variety of bespoke date stamps from one of the leading stamp manufacturers.
To accommodate your demands, we provide a variety of stamp body sizes and styles, including:

Metal-cored, heavy-duty self-inking stamps for every day, high-volume use

Simple plastic models that are portable and lightweight

Cheap rubber stamps with individual ink pads for varying ink colors
For certain time-sensitive applications, there are even a few versions that display the time in addition to the date.
Robust date stamp
Steel-framed, robust date stamps are available.
These are intended for settings with high usages, such as banks, post offices, and warehouses where hundreds of stamps are applied daily.
It is claimed by the online stamp maker, that due to its strength and long lifespan, pharmacies prefer the professional date stamp.
Regular date stamps
A separate ink pad was typically required in the past for a date stamp. Then came the development of self-inking stamps.
However, there are some situations where a classic stamp design is appropriate.
Manufacturers must mark products in constrained spaces. The classic dater's smaller size is ideal for them.
A separate ink pad is required for these rubber date stamps. To utilize it when it arrives, make sure to add an ink pad to your order. Date stamps are a common, affordable workplace tool since they expedite everyday operations. People frequently neglect to check how many dates are left on their stamps before having to place a new order because they are designed to last at least ten years. Make a mental note to check the date stamp annually to make sure it's operating at its finest so you won't be caught off guard. This is how date stamp will going to help you in many cases.
Date of publication 2022-09-03