A company stamp is among the most important tools for business owners. It is beneficial and has several potential advantages. Due to the advantages that business stamps offer, many people frequently choose them.
A few essential components must be present in the design of business stamps in order for them to function. Most firms choose one of the many well-liked stamp designs for use in daily operations.
Do you want to know how to get unique rubber stamps for your company? Custom address stamps, inspection stamps, standard office stamps, seal stamps, and many other stamp modification options are offered by numerous online services. When choosing your chosen partner for the business stamps, you can look at MyStampReady's options.
Before beginning, let us know what is exactly meant by the phrase "Custom stamps".
A customized (or personalized) stamp is a postage stamp, rubber stamp, or dry stamp that has (or does not have) an adjacent label on the left and can have a picture and/or text of the buyer's choice added to it for a cost.
Here are some signs that you really need to consult the rubber stamp maker for your business-

Read More:- Deposit stamps: what is it about it
You are tired of putting your address on the parcel
This happens when you are an aesthetic small business owner. You always tend to make things more handmade. Thus you always write your address by yourself. Stop that and search for the best stamp online.
Moreover, the reason behind buying a custom rubber stamp is to have your own cute logo - the logo that you have made for your small business. 
The fundamental motivation behind the invention of stamps was to help businesses save time. They can be utilized by many firm departments for a range of tasks. Your personnel will need to spend less time stamping once you start using the stamps.
Today's industry also offers automatic stamps thanks to technological improvements. Due to the time that they can save, business entities are quite interested in these stamps. It can result in higher productivity and significantly enhance overall business success.
Stamps support the legitimacy of your firm and provide evidence for any transactions you take out on its behalf. Customers typically prefer to deal with well-known businesses when buying their favourite goods or services. When you choose to utilize a stamp, it considerably increases the trust factor.
If you want to gain your consumers' trust, you should choose the stamps right away. Some people assert that after using the stamps, their company's sales increased as well.
Replacement of the signature
When you have a lot of business paperwork that needs your signature, you typically become exhausted as a business owner. One of the most convenient strategies to help you improve your productivity is to use business stamps. You can start replacing your signature with signature stamps for this part.
It can assist you in allocating your time more effectively to other important company tasks.
You can save time and effort and cover a wide range of documents with the help of a signature stamp. When business owners prefer to employ stamps over the conventional methods, they significantly profit from this feature. These stamps are a full legal substitution for your signature.

Read More:- Create stamp for your business and company
One of the primary justifications for the adoption of company stamps is brand awareness. One of the best methods to raise awareness and communicate with your customers through a physical thing is using stamps.
You may easily market your business with stamps
Many resources are available to you that can help your business succeed. The advice from family and friends can be overwhelming, especially for new enterprises. However, using personalized stamps is one thing that every company can do to increase efficiency. Let's examine the advantages of personalized rubber stamps for your business.
The paperwork is properly labeled and organized
Even if practically all documents are available in digital form, organizations still rely on a lot of printed materials. In actuality, the amount of paperwork has increased as computer use has increased. Therefore, maintaining good organization of the documentation is really difficult.
When you take a document out of the file to determine its state, it takes time to understand. 
It can be difficult to tell the distinction among an original document and a copy of one.

Payment history for the Invoice

confirmation that the client received the faxed contract
The rubber stamp holds the key to the problem. The stamps typically have one-word descriptors like a copy, faxed, and paid. You can quickly ascertain the document's current status by giving it a quick glance.
The difficulty is reading the handwriting if you hire someone to write the status using your hand. This weakness is typically solved with rubber stamps. When there is a pile of paperwork, stamping is particularly effective since it is equally effective on each piece. If someone is making notes on the document, the efficiency is not the same.
The simplest approach to brand a document is with a rubber stamp, which may be customized with the company's motto or emblem. You can stamp your slogan or emblem on the top of the letter so that you won't need to purchase personalized letterheads. When customers see your emblem on the exterior of the envelope, they recognize it as yours.
Commonly used stamps include fax, copy, and paid, which are issued to clients or customers. Customers learn the name of the business every time it utilizes this rubber stamp. There is a good likelihood that their customers will also notice the stamping, which raises awareness of your brand. Think of it as a low-tech form of pervasive marketing.
Keeping misunderstanding in check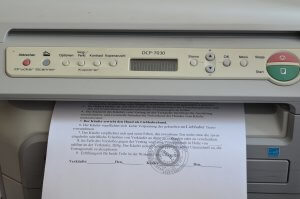 Rubber stamp use helps to avoid misunderstanding. A handwritten note causes bewilderment in another person because of difficulties reading it. The use of a rubber stamp is a requirement. When everyone uses the same rubber stamp, similar things are updated. Since most notes are written by hand, there are several versions of them, which frequently causes misunderstanding.

Read More:- Create an original seal with a logo in our online stamp maker
Saving money by using rubber stamps
A rubber stamp can help you save money in many different ways. The personalized form is an expensive endeavor. When you print your company's emblem, which uses a lot of ink, the price goes up. Your company's logo rubber stamp allows you to cut costs significantly. The logo stamp is available for use whenever necessary. The ink pads that are used for this are also rather inexpensive.
The company's office address, support email address, phone number, and other details frequently change. The customized forms' frequent printing will result in higher overhead costs. There is a risk that you will alter the office address or other contact information listed in the forms, but this is not essential.
If it is in the rubber stamp, these minor dynamic changes are less expensive and simpler to handle. All you have to do is update the information on the rubber stamp. In addition to saving money, it will help preserve the ecosystem.
Certain technologies never change. In this day and age, many technologies have a limited lifespan. You may have noticed that software updates frequently, computers have faster processors to make them even faster, and mobile devices constantly get improved and updated versions. As a result, you can't use them over time.
Some technology can be replaced with newer, more potent tools. Mimeographs or even a typewriter must be extremely uncommon in modern offices. But every so often, a technology that never changes and never disappears is born.
The technology that is on the list and has been used for a long time by numerous firms is the rubber stamp. There is no prospect that the pace will slow down soon either. Online rubber stamps are the only option, as there is no substitute.
Date of publication 2022-09-03