How Do You Create A Signature Stamp For Your Business?
A signature stamp is a handy tool for any business or office space. However, there are some questions regarding if your own signature stamp is legal or not. Though the answer to this question is still unknown, you can easily have your custom signature stamp for conducting your business, and its official works smoothly. Now, let us discuss what a signature stamp is and how you can create a personalized signature stamp for your business.
Since many official documents need some kind of authorization, thus, having a clear idea of the definition of a signature stamp is important. A signature is basically the sign or mark made by a person on a document or instrument to show acceptance, approval, obligation, etc. To describe the term signature in another way, you can say it does not only mean signing your name in a specific way but also some kind of signing mark. A valid signature may include an official seal, a drawn image, and many more.
What is a signature stamp?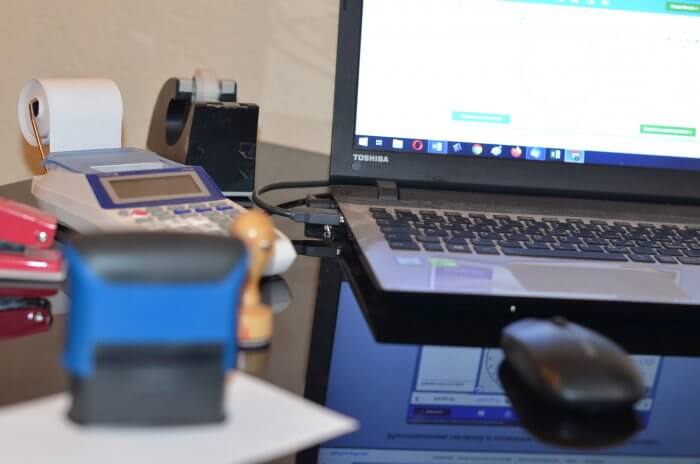 To say simply, a signature stamp is a mark or an implement that is personalized with the name of an individual for easy and quick authorization of some crucial documents and instruments. These stamps can come as a customized item with just a signature, or they can contain both a signature and a printed name. You can find signature stamps in different styles that include pre-inked, self-inking, or even wood handles. Though each of the personalized signature stamps serves the same basic function or purpose, each of them appeals to different aesthetics.
With the outbreak of the COVID-19 virus, having your custom signature stamp to authorize all your official documents is a good way to maintain a professional attitude even while following the rules of social distancing. It is also better to use your own tools to reduce the spread of this infectious virus. While those signature stamps are a really useful tool for any professional, there are some concerns regarding if those are a legal way to authorize something or not.
Is a signature stamp legal?
The answer to this question is yes. Generally, you can use a custom signature stamp as a legal mark for authorizing your documents. So, as long as your signature stamp is validated and used by you or an authorized representative appointed by you, a signature stamp can work as a legal form of authorizing something or signing.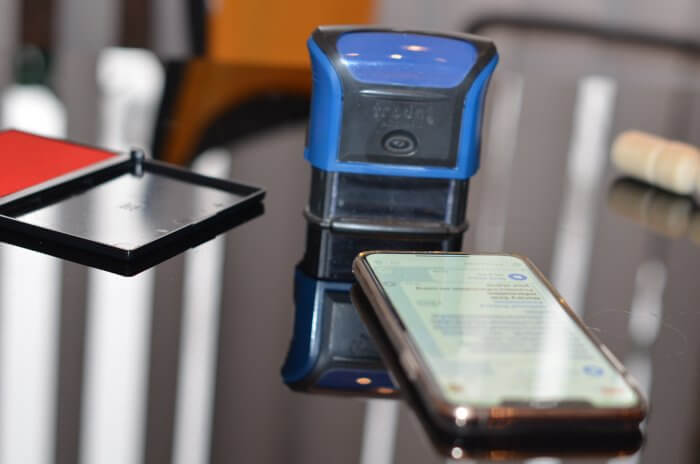 However, there are some situations where specific regulations or protocols need to be followed to legally use signature stamps. Some states need particular witnesses or documentation to be present for custom signature stamps to be used on documents and forms requiring notarization. So, if you wish to have your own signature stamp, you need to be sure that you are familiar with the laws of your state's notary public and how those laws apply to custom signature stamps.
Another crucial thing that you should remember is that you may need to talk to a lawyer if you need official legal consultation regarding your signature stamp. With these particular considerations, you may have to weigh the benefits and disadvantages of keeping or using a custom signature stamp that is readily available.
What are the advantages and disadvantages of using signature stamps?
Now, as you already know what a signature stamp is and why it is a generally accepted legal or official mark of authorization, let us talk about the advantages and disadvantages of keeping a custom signature stamp and using it.
The advantages of a signature stamp
There are many reasons that can insist you buy and use a
personalized signature stamp
.
It is a very useful tool for both professional and personal use that helps in expediting or simplifying some specific tasks.
The consistent appearance of the signature stamp removes ambiguity.

A signature stamp simplifies the procedure of repeated and frequent signing.

With the help of signature stamps, physically disabled persons can sign easily.

Company signature stamps are a much cheaper option than those personalized marketing materials and those printed business cards. Thus, you can save a lot of money on printing costs.

You can add personal touches to your stamp and connect with a lot of people, as this makes your business authentic and trustworthy.

You can easily increase your brand recognition with the help of signature stamps.
The disadvantages of a signature stamp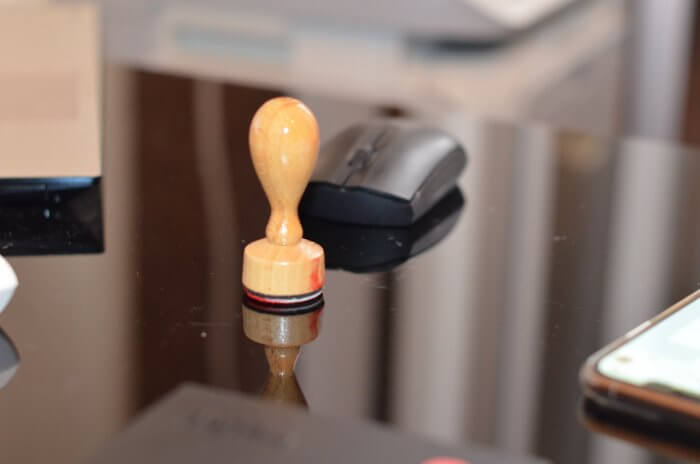 There are a few things that you may have to be wary of regarding signature stamps. Probably the greatest threat is that if your signature stamp gets stolen, it enables the thief to then use it for illegal and fraudulent purposes. Some drawbacks of the signature stamp are:
A signature stamp may increase the chance of fraud if your stamp falls into the wrong hands.

Some specific organizations or businesses may not accept your stamped signatures.
For the prevention of fraud, you may think about taking measures to protect your business and yourself. You should keep your or your business's signature stamp in a specific space that is as safe as a locker, safe, or a locked closet. You need to remember to allow only a few authorized individuals access to your signature stamp for safety.
Why is stamp branding important?
Personalized stamps can easily add a distinct, appealing, and personal touch. If your business needs to communicate in a faster and easier way, custom signature stamps are always important. With personalized signature stamps, you can communicate in a detailed way with your clients, and your clients will understand your thoughtfulness.
Custom stamps help your organization to work flexibly in placing your brand identity on almost any surface. Nowadays, it is very important to maintain the quality and reputation of your brand; signature stamps can be really helpful for any business regardless of their size.
How do you create a signature stamp for your business?
As mentioned earlier, signature stamps help in making your routine tasks really simple. Signing important documents, checks, or other forms becomes a really easy task with the help of a customized signature stamp. Here are some tips regarding how to create a
signature stamp
for your business.
First of all, you need to grab a sheet of white paper. The paper needs to be a plain and unlined one.

Then, sign your name on it three times clearly with a felt tip pen. Do not make any stray marks because those marks will be included as a part of your stamp.

Choose a signature stamp style for your stamp from MyStampReady, which is a well-known and trusted signature stamp maker

.

After that, upload your signature and select a format from the available options.

Now, place your order, and MyStampReady will create your stamp. After receiving your customized signature stamp, remember to keep it in a dry place at room temperature. Also, make sure that the space is free of debris and dust. If you wish to clean your custom signature stamp, just gently rinse the rubber stamp under warm water and then wipe it carefully and gently.
Date of publication 2022-05-08