Nowadays make online stamp are easier than ever, but the choice of equipment for printing-a delicate matter, although it would seem that most snap-ins are similar to each other. What seals can be called unusual? Print size does not play a role here. Manufacturers go to all sorts of tricks to their equipment looked advantageous against the competition. A special place in the range is occupied by souvenir solutions. You can find a model in the form of a bear or a soccer ball, and someone will offer a snap in the form of a phone or an alarm clock.
It is pleasant and useful among office routines to have something distracting from it. And it can be not only all kinds of anti-stress pillows and toys like mega-popular spinners but also anti-stress snap-ins for seals and stamps.
The Snap-In "Whirligig"
Everybody knows that rotating toys have a number of positive aspects that impact human consciousness. Take at least spinners-they are recommended for children suffering from autism or attention deficit disorder. The rotation of the spinner helps them to calm down and focus on the important things.
It's cool when you can make online stamp and turn an ordinary custom stamp into a rotating structure. Metal snap "Whirligig" allows at any time to give a rotation to the stamp. Snap opens, revealing the inside of the stamp pad, so, it has all the properties of a conventional snap-in., but being closed, it acquires the elegant shape of a whirligig.
Twist your seal when thinking about something, or when you are a" loaded " colleague-you combine business with pleasure, passing additional load on the right hemisphere of the brain, which is known to interfere with focus during stress.
The snap-in "

Eyes

Antistress"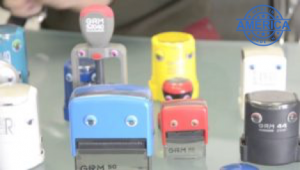 Anti-stress products are not only things that can be crumpled or twisted, but also those when you look at that it is difficult to restrain a smile. Eyes Anti-stress belongs to such.
This April fool's joke from the company Graphics-M, which, despite all the frivolity, was released to the market and actively sold. Those wishing to purchase such equipment wholesale available payment by Bank transfer. The essence of Eyes Anti stress is to attach the eyes to the traditional automatic and manual equipment for seals and stamps.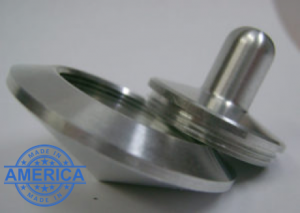 Snap-in presented in assortment all possible species, and on each, there was a place for the eye. Your stamps are watching you! Even the representative of the company in a promotional video, introducing the new snap, couldn't help it and laughed, looking at them. Not to say about us, ordinary office workers.
After all, a smile while working, according to many experts, is a thing much more necessary than solidity and rigor. Of course, you cannot do without them, but creating a fun and relaxed atmosphere in business has a striking effect on the performance of employees.
Summarize
We have listed only two anti-stress snap-ins, although, if you look, you can find many other types. Of course, if you buy a snap-in it is advisable to purchase a stamp too. But it is easy to do, you can make online stamps using our online stamp designer. The simplicity of its development is favorably combined with a wealth of possible variants of the print, which can be implemented with its help. And we, in turn, will make the seal on the sketch created by you. Also, if you just need a layout, you can always download your print.
Date of publication 2019-10-08