Due to numerous requests from customers who have problems with payment on our website, we decided to help you with that problem.  We understand that not everyone has the opportunity to pay and download on our website a layout of the seal/stamp. It is not your fault or our fault that for any reason our payment systems do not work in a particular country. We would like that all people could use our resource because it was conceived in order to help people. The modest fee we charge for downloading only helps to keep the resource afloat. It's a shame when people write to us that they really like our service and they would love to use it, but can not, because they do not have the opportunity to pay via PayPal.
In this regard, we have come up with a way to help people who do not have the opportunity to pay on our website and get a seal/stamp in the standard mode quickly and easily.
I tell you how to get the company seal or personalized stamp for free. I would very much like that this method would be used only by those people who really do not have the opportunity to pay.
How to get a rubber stamp layout for free from MyStampReady
Open our designer of stamps and seals.
Create a layout by selecting from the stamp templates or creating a new unique design.
Make a screenshot of the stamp you created on our designer.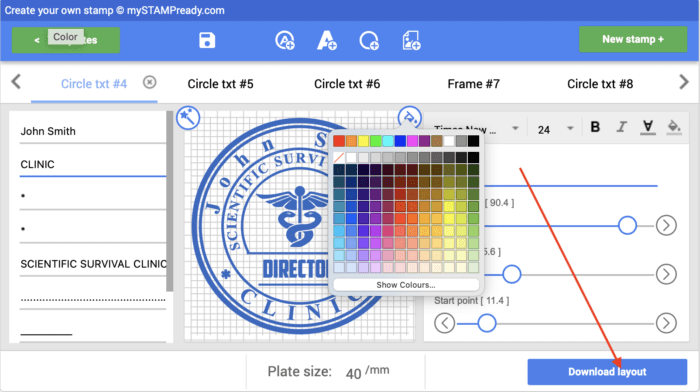 Press the download stamp layout button and select the format.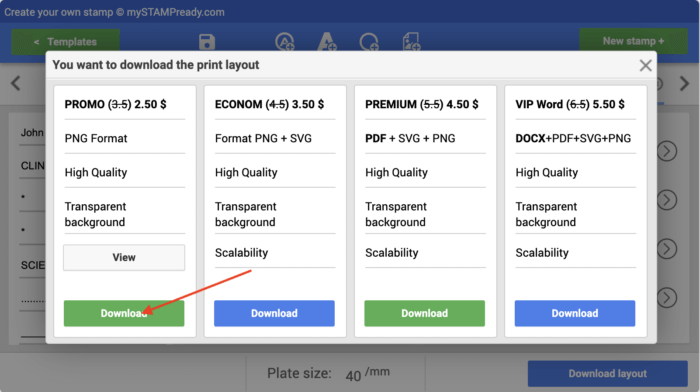 Choose a promo format and click on the download button
Be sure to indicate your mail and remember it, it will be useful to you later.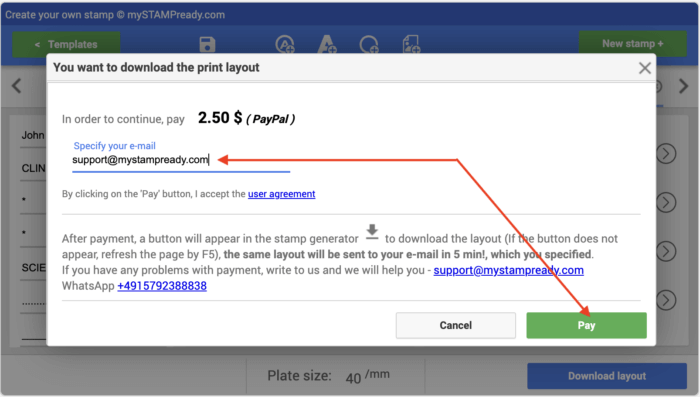 Click the pay button and choose the payment method.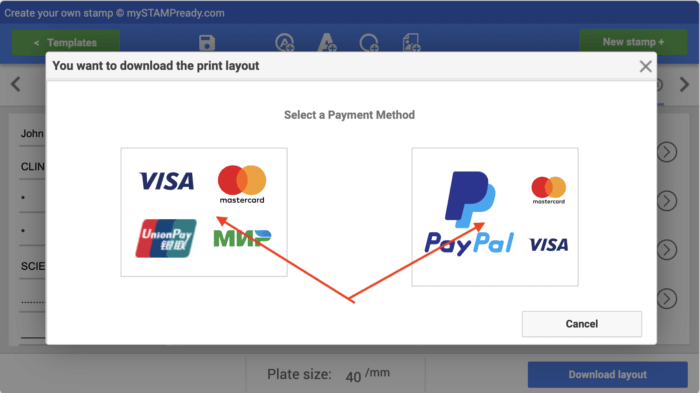 At this point, as soon as you will be transferred to the payment page and you will see the option for payment, the layout is formed on our server. It is very important that you see the screen with payment.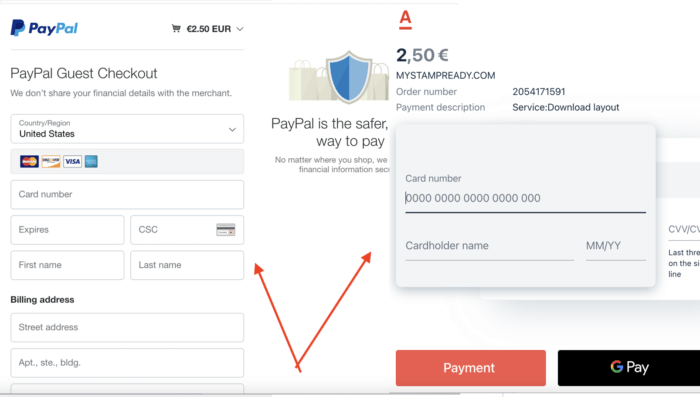 You clock the exact time when you saw the screen with the payment.
You go back to the site or open it in a new window. At the bottom of the site, there are contact details of technical support you write us the following data.
- support@mystampready.com
The mail you indicated
Name
What country are you from
For what reason you can not pay
The Exact time and date when you saw the page with the payment with the specification of the time zone (UTC +4) - This is important because it is by this parameter I will look for your stamp on the server.
Be sure to attach a screenshot of your print.
You must understand that the entire procedure for obtaining your print for free will be performed by us manually, so please do not ignore the above items. In turn, we promise to process your applications as quickly as possible and respond to emails.
Some questions and answers about seals and stamps
What is the difference between seal and stamp?
Although seal and stamp are words that look similar, they completely differ in their meanings. A seal uses wax to leave a raised impression on the paper or any document to make it official. On the other hand, stamps provide an inked impression that you can even use through photographs and this cannot be done while embossing.In simple terms, seals are used for embossing while stamps are used for inking the paper, especially through photocopies.
How much does a personalized stamp cost?
The cost of a rubber stamp varies according to its shape and size, followed by your requirements. It starts from $2.5. even reaches millions based on its value. However, the price range is certainly low when you go for a stamp, plus you get the add-on advantage of customizing your stamp design as per your own choice at a minimal cost.
How do you make a stamp without rubber?
While this seems a little odd way, the method of preparing stamps without rubber is pretty easy and simple. All you need is any of these materials – of a piece vegetable like potato, cardboard, piece of plane wood, or any other surface where you can easily carve the design. Cut the particular shape to form the design of the stamp. Once done, dip the designed surface into ink or any color and then simply use it to ink the paper or document.
How to use personalized stamps?
Whether you are looking for your professional company stamp or your personal stamp while throwing a party, you can create your own set of stamps without learning the skills of designing. You can either create a stamp by using the elements available online orjust upload your design file to get a ready-to-use stamp.
We hope that we can help all those in need.
More information in our blog.
Sincerely your team MyStampReady
Date of publication 2019-09-16