Before answering this question, let's examine the main types of stamps and their approximate cost.
Types of stamps
You can use a rubber stamp maker to create your unique stamp in the following types.
1.   Traditional (wooden)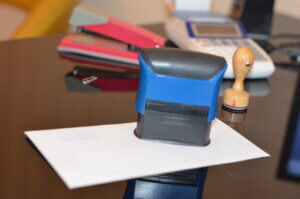 A rubber stamp of this type requires instant contact with an ink pad, and unfortunately, in this case, you will have to do it manually. This makes traditional stamps, not the most efficient type. Either way, they are the cheapest and you can get one for $10-15.
2.   Self-inking
Self-inking stamps are those that make a specific sound, which everyone is familiar with. It is the most popular type to be used in offices, because they have an integrated ink pad, always last for a long time, and cost from $15 to $30.
3. Pre-inked
This type of stamp is similar to a self-inking one, but briefly describing their differences, the latter is almost silent and more pleasant to use. That is why these cost the most - from $35 for an item.
It seems that a personalized stamp does not cost a fortune and literally every company can afford one. But how exactly does a custom rubber stamp promote your brand?

Read More: Stamp Guide: Types of Rubber Stamps
Reasons for your company's increased recognition with a stamp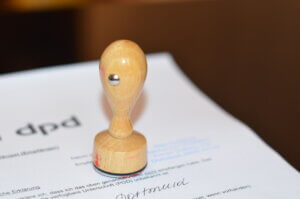 First of all, when customers see the stamp with your logo on a document, your company immediately seems more official and big to them. Usually, people tend to think that only successful companies order stamps, while smaller brands do not need them at all. This common stereotype will bring you lots of profit.
Furthermore, a commonly occurring eye-catching stamp design remains in a customer's head, which may cause them to recommend your services or products to their friends or relatives, especially if cooperation with you has left a good impression. The grapevine may be the most effective form of promotion.
After all, the presence of your website on the stamp will increase the amount of online traffic. This means more people will be aware of your new products and perhaps will be ready to pre-order one of the items as well.
In summary
Ordering a custom rubber stamp is 100% worth it. Not to mention that stamping documents saves you much time and has a practical purpose, the creative and original seals will bring a lot of customers and new orders to your business.

Read More: How to choose a rubber stamp that meets your business needs
How are rubber stamp makers involved in promoting your brand?
Most readers probably did not really understand what role do online stamp makers play in increasing your company's awareness. As mentioned earlier, the more memorable your seal, the more effective the promotion it will give. Such a tool as a stamp editor gives you the opportunity to create a high-quality seal that will really impress your clients.
Why is it better to make a stamp in an online editor or to contact a designer?
1. Full control over the process
Sometimes, commissioning a seal design from freelancers is kind of a lottery. Even if you describe the task in detail, the final result may differ from your expectations. Design is undoubtedly a creative and artistic business line, so each person represents the same description differently.
2. Wide range of features
Despite the user-friendly interface of stamp makers, they always offer a large number of capabilities, which allow you to create a detailed stamp layout without any previous experience in creating seals in Adobe Photoshop, Corel Draw, Adobe Illustrator, etc. Let's take MyStampReady's stamp maker as an example. It allows you to choose the shape of a seal, add geometric figures, decorative elements, and inscriptions, upload your own logo and edit its placement inside the seal, or you can also take one of the images from the gallery.
3. Price
Objectively speaking, downloading the layout made in a seal generator will always be cheaper than buying one from a designer. The artistic work has never cost less than a computer drawing. Going back to the taken example, you can create and download a custom stamp for only $2.50.
I believe you will agree that it is not possible to find a lower price on the market.
4. Less trouble
The majority of online stamp makers allow customers to immediately contact stamp manufacturers in their city by proxy and create the kind of custom stamp you need by engraving on rubber or by vulcanizing it, using your ready-made stamp mockup. This feature will save you hours and streamline the process as well. Methods such as fabricating stamps with a Cricut machine or buying your own device for making rubber stamps are not only expensive but do not guarantee quality either.

Read More: Free Electronic Stamp Maker Online with saving a Rubber Stamp Layout

What peculiarities of the stamp will definitely help you promote your business?
1. A logo in the center
If your company logo looks nice and is a nice touch in the composition of a seal, it will surely cut in your favor and attract a lot of customers. People get bored just looking at the words enclosed in a circle or rectangle, so the denoted feature will add vivacity to the design.
2. Website
As mentioned above, the presence of a website address on your rubber stamp will lead to activity enhancement there. If the domain engraved on a stamp is no longer valid, redeveloping the design is the best option. Otherwise, a lot of traffic from the website will be lost.
3. Decorative elements
The situation here is the same as with the logo. If you add smooth lines, curls, or ridges, it will be more enjoyable to look at the seal. Just try to be creative and come up with a few unique ideas. Spend a lot of time developing the stamp layout with a stamp maker, bring it to perfection and it will pay off instantly.
Conclusion
To sum up, a stamp maker is the only tool that will help you create a perfect seal layout cheaply, at short notice, and without any photoshop knowledge. Literally speaking, this online resource will give your brand a major promotion, engage many new customers and potential employees in your company, and as a result, increase your income.
Date of publication 2021-12-08