When you are thinking about running your own business, creating your logo is a crucial task that needs your careful consideration. Having your own logo is a crucial and integral part of your business, along with positive referrals and good-quality products. So, you may wonder how you can create your own business logo stamp, and hence, here are several crucial details regarding a logo stamp maker through which you can easily get your professional logo without paying a lot.

Read More:- Circular seal for documents it's sizes and purpose create it
What is a logo?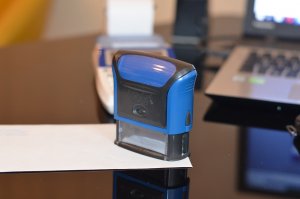 A logo is a point of identification. Logos are those symbols that your customers use to identify and recognize your brand, among others. Logos usually are comprised of colors, images, and words that are used to give a specific identification to a brand or item. There are different types of logos that have different sizes and colors that can be the identification mark of any brand.
What is the purpose of a logo?
A logo can help you and your business in various ways, such as:
In the crowd of numerous advertisements and content, an attractive logo can be different enough to create a special place in the minds of your consumers. You can easily accomplish this by researching your competitors and creating an attractive logo to create a long-lasting presence in the minds of your consumers.
Help you to make a first impression
As you may know, you will not get a second chance to create a good first impression. Thus, a logo is definitely a great way to make a memorable first impression which can easily grab the attention of your clients and deepen their interest. Often, your logo is the first and even the most prominent mark that is being noticed by your audiences.
Help you to foster brand loyalty
With the growth of your brand, your logo becomes more familiar to a large number of consumers, and this awareness creates the idea that your brand is accessible and trustworthy. Trust is built on a logo which is well-designed, and brand loyalty flows that quickly. So, once your customers like your products, they will look for your brand logo again and again for their future purchases.
Help you to create a strategic branding tool
When talking about branding, having a well-defined brand strategy that can outline your goals and values clearly is very important. You can think of your logo as like a piece of the puzzle, and this kind of strategy can help you to communicate your brand message across different marketing platforms of channels. For example, you can use your brand logo in your business cards, social media platforms, physical stores, packaging, etc.
Help you to convey your message
A logo is a powerful way to inform your consumers about your product or company without wasting any words. Within just a few seconds, one symbol can tell about your industry, what types of services you offer, and even what values you possess.
Read More:- How to choose the Perfect Eye-Catching Professional Rubber stamp
Now, you may wonder what the steps are for designing an attractive and effective logo for your business. So, let us discuss the process.
How to design a logo?
Creating a professional logo includes a lot of features like layouts, colors, fonts, symbols, etc. So, here is a logo design guide to help you out.
Steps to design a professional logo
Step 1: Research the brand
Researching is a crucial step in any crucial project, and logo-making is not different. If you wish to create a successful and long-lasting logo, you should start by setting a solid foundation. In your research, you should find answers to the questions like:
Who are my ideal customers?

What are my competitors doing?

What is the name of my company?

Where will I use my logo?
After finding answers to the questions, you can find out what kind of design, color, and shape you may need for your professional logo.
Read More:- What is the designer of seals and stamps?
Step 2: Learn about the design
Designing a professional logo is not a very tough task because you do not need any special skill or any fancy editing software to complete the task. With a good logo-making tool or logo maker like MyStampReady, you can easily create your own professional logo in just a few minutes.
Step 3: Chose the font, color, and symbol
To create an attractive logo, you need to choose the colors, symbol, and font size of your logo with careful consideration, as it will serve as the identity of your brand or company.
Step 4: Make your logo
After planning all the points mentioned above, you can start your task of logo making with the help of a good logo-making tool or a reputed company like MyStampReady. You can even use an online logo maker if needed.

Read More:- Company seal or personalized stamp for free in 2022
Step 5: Test and finalize
After completing the task of creating the logo, you should test it for its scalability, and if the test offers a positive result, you can go with the logo. 
So, these are the steps for creating a logo yourself. Now, lets us talk about a few amazing logo makers which can make your job fun and easy.
The best free logo-making tools
There are different types of online logo stamp makers or online logo-making software tools that can help you to create some attractive professional logos without wasting a lot of money. Some of those even help you to design a high-quality professional logo without any knowledge regarding graphic designing. So, let us discuss some of those amazing tools below:
Zyro is an attractive
online logo stamp maker
which can help you to turn your innovative ideas into reality. With the help of this tool, you can easily customize every part and element of the logo, from the test to its icon. With this free tool, you can easily create your professional logo in just four easy steps. All you need to do is to enter the name of your brand, select a template, and then create or customize your logo. After that, you can download it and use it.
If you wish your logo to become unique and attractive, you should put some effort and thought while creating your own professional logo. Thus, you can use the free online logo stamp make
r
Hatchful, which doesn't cost you a lot of days while create a unique professional logo. With this tool, you can increase your efficiency and create a crisp and clear logo while running your business successfully.
Hatchful is very easy to use and allows you to customize your logo as per your preferences and needs. You just have to choose your business space, and choose a visual format or style to make the logo maker aware of your choices.
This is a website builder company that provides
logo stamp maker
software without any cost to the public. With this, you can easily create a logo while using a large variety of shapes, icons, colors, and texts. So, with Ucraft, you can create a perfect professional logo within just ten minutes. Only you have to create an account if you wish to download the logo. 
You may be aware of the name Canva as a social media tool; however, you should know that you can also use this tool to create an attractive logo for your brand. Canva has an amazing drag-and-drop interface, with which you can design and create your logo with ease. Moreover, Canva offers more than one hundred templates from which you can easily choose one for yourself. The best part of this tool is that you can get a logo of high resolution without any extra cost.
Date of publication 2022-07-17