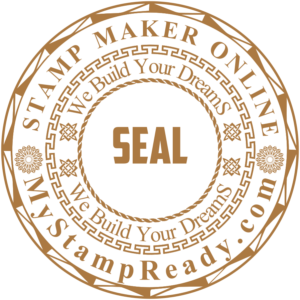 The represented digital corporate seal template was designed for companies that need to have a logo and a website address on their seal. In this description, we explain how to make this sample authentic and describe each component of it in brief.
Customize this golden digital corporate seal using MyStampReady seal maker
Nowadays, company owners are trying to choose those
digital corporate seals
that will draw customers' attention and look good on a document. Well, the template above meets the criteria. Its unusual color and balanced arrangement make it appealing and uncommon at the same time. Let us familiarize you with the composition of this seal and explain how to personalize it. This stamp consists of 3 units, each of which is enclosed in a circle. The main unit is the one that says "SEAL" because it has room for your emblem. To insert it, you have to choose your logo in SVG format and adjust its position and scale. Then, you can also notice two inscriptions "We Build Your Dreams" and a couple of ornamental geometrical figures, which separate these letterings from each other. If your company has a different slogan, just replace it by erasing the text that is already present and typing in a new one. The third section also has two titles, which are "STAMP MAKER ONLINE" and "
MyStampReady.com
". The one at the top can be changed to your company name or its speciality. Also, it's worth inserting the official website address of your firm at the bottom. By the way, these inscriptions are also separated by two decorative elements. The bordering of this digital corporate seal is quite thick because our designers made an unusual pattern using triangles, one of which is colored.
Date of publication 2020-07-26