A wedding invitation suite is SO much more endearing and unique with vintage stamps. Each time we see a flat lay or a calligraphed envelope embellished with old postage stamps, we swoon. You wouldn't believe how much study is needed to calculate, find, curate, and assemble
wedding vintage stamps
into your envelopes. With so many variables at play when buying old postal stamps, we've compiled all of the advice we've picked up along the road. For advice on how to find and use vintage stamps for your wedding invitations, continue reading.
Read More:- All You Need To Know About Date Stamps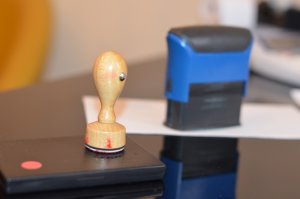 If you intend to use
vintage stamps
on your wedding invitations, inform your stationer right away. Starting before or throughout the invitation design process is actually the ideal option. When planning an invitation suite using vintage stamps, there are numerous factors to take into account, such as how much space to give for addressing since there will be multiple stamps, what color envelope would best showcase your stamps, etc. Your stationer can assist you with these inquiries right away, and you'll also need to learn how much your invitation will weigh prior to you buying your stamps.
It shows how aesthetic you are!
Create a vintage postage collection that reflects your personality or your wedding's theme! For instance, if you enjoy traveling, you might find geographical stamps featuring locations that have a special value to you. A set of
vintage floral stamps
would look beautiful if you were getting married in a garden or out in nature. There are a ton of stamps honoring well-known authors if you have a passion for books or reading. The options are genuinely limitless.
It goes with almost every color
The simplest and most popular option would be to select your stamps based on your wedding's color scheme. Choose complementing hues or even go for a monochromatic aesthetic, using the colors from your wedding as a reference.
You don't need to have a stationer
Using a stationer will be helpful in a situation when you have to paste postage stamps. You will need to calculate the appropriate amount based on the weight, size, shape, and thickness of your envelope, depending on the number of pieces you are ordering in your invitation suite and the kind of paper you are using. 
Generally speaking, domestic shipping will cost $0.55 (as of 2021) for anything that is less than 1 oz in weight and is not particularly thick. You may need to pay an additional postage fee of $0.20 per ounce if it weighs more than 1 oz. But in the case of stamps, you don't have to go for a stationer.
A "non-machinable" premium will be applied to square envelopes and envelopes that aren't conventional sizes. A non-machinable mail piece must be manually hand-canceled with a
rubber stamp
because it cannot be sorted in USPS's automated equipment. This cost is an additional $0.20 ($0.75 for a typical mailing). This amount of postage is required for hard, lumpy, wax-sealed buttons, strings, or clasped envelopes since they are not machine-machinable
Many businesses sell stamp templates that you may use to add your names, the date of your wedding, and other details that will fit on a stamp.
Round stamps
have a timeless appearance and subtly reference the eternity-symbolizing shape of a wedding ring. You might prefer
square or rectangular shapes
. Circles, lines, flowers, geometrical forms, symbols, and of course, text can all be used in designs. When it comes to stamps for invitations, you can get quite inventive.
Ascertain how much postage you'll need to buy and set aside money for it. You might be amazed to learn that purchasing vintage postage stamps can be far more expensive than doing so with contemporary stamps. Depending on availability and denomination, not all antique stamps are priced identically. Be prepared to spend two or three times as much on vintage stamps as you would on recent USPS stamps.
Don't forget to purchase extra sets for souvenirs, missing mail, or returned mail (such as one to photograph on your wedding day). There are many stamp vendors around you. Their selection is extensive, and over the years, their customer service and ordering process have been AMAZING. Additionally, fantastic resources include MyStampReady,  Little Postage House, Vintage Postage Shop, Edelweiss Post, and Flourish Fine Writing. 

Read More:  Personalized wedding stamp Types: How to Choose the Best
Let your stamp merchants put together a set for you. Give them your wedding's colors or theme, the number of sets you need to order, and the amount of postage you'll need for each set. Be careful to purchase UNUSED stamps if you plan to collect and source your own stamps. Since used stamps are valuable to collectors, many stamp dealers sell them, but they cannot be used for mailing.
You'll need to design the stamp layout for the envelope once you've determined your postage and located your stamps. In order for them to know how much room to provide for addressing, it is best to discuss this with the stationer or calligrapher. Receiving hand-calligraphed envelopes from your calligrapher and finding out later that there wasn't enough area for your vintage stamps would be a bummer!
You can have your own way of decorating the stamps
Play around with the stamps' placement! They can either run across the top right in a straight line or piled on the side. Play around with the layout if your stamp collection includes both vertical and horizontal stamps. Choosing which will seem the most balanced yet visually appealing is a bit like solving a jigsaw. When deciding how you want them placed, you should take their colors and sizes into account.
Read More: Custom Wedding Stamps for Invitations created With Stamp Maker Tool
Vintage stamps
can be obtained in a number of ways. You work with stamp collectors most of the time. They might be located locally in your community or online on
MyStampReady
. Most of the collectors will even work with you to find the ideal "set" that complements your wedding's colors or theme and the mailing cost you require. Most stationery designers also provide this as a service, saving you the trouble of finding a different supplier.
Our personal favorites are these! There are a ton of alternatives, and they are just SO lovely! Simply said, vintage stamps are older stamps that have been in circulation since the post office first issued them many years ago. You must combine many vintage stamps to equal the cost of mailing your invites because each of these stamps has a different currency.
It takes attention and time to detail to post historical mail on envelopes. Make sure your workspace is spotless and organized before beginning.
To facilitate the process, arrange your stamps in the order that you intend to apply them to the envelope. Unlike contemporary stamps, many older stamps lack the self-adhesive feature. In order for them to stick to your envelope, you will need to wet them. A basic shallow bowl and wet sponge work well for me (you need less water than you think!). You can sometimes fine-tune the application process with a pair of tweezers, especially since you want to make sure they are absolutely straight and equally spaced.
We can assist you throughout the entire process as your stationer, and we frequently coordinate directly with stamp dealers to ensure a smooth operation. If you would rather have us handle all the tiresome handwork, we can provide assembly services.
The beauty of old stamps brings back experiences from childhood, history, culture, and many other things. An attractive stamp that fits your wedding's theme is a common choice for wedding invites. It could be a particular hue, a romantic image, or something you want to include in your day, like flowers, butterflies, birds, or greenery. Three or four different stamps arranged in a collection can look lovely. For a nice occasion like a wedding, stamps with watercolors and calligraphy that have a romantic vibe are ideal.
You can also send save-the-date cards and other correspondence pertaining to the wedding day using vintage stamps. Even if old mail has a particularly lovely aspect to it (especially when displayed in a carefully curated grouping), there are so many "standard" alternatives available right now that will produce the same results for a lot less money! Consider collaborating with a designer to create a custom, postage-like stamp with your monogram. Then, put appropriate postage in the blank space next to it.
In addition to taking more time to find enough of the stunning postage collection you have your heart set on, vintage wedding postcard stamps are more expensive than it is actually worth at the post office. Thus, a stamp with a certain postal value will cost you about $0.65 per piece (prices vary by vendor/stamp, but this is an excellent example). To save money, blend modern and old styles. If the budget is tight, however, you still want to use vintage stamps, think about buying a small number of sets to present to your most essential guests—no one will notice they received a different stamp!
Read more blogs here on how useful can be stamps:
Using Initial Personalized Stampers, Personalize And Process Paperwork
How Custom Stamps Can Help Small Business?
How to Use an Identity Theft Protection Stamp to Protect Yourself?
A step by step guide for making a custom rubber stamp in 2022
6 reasons why you need a rubber stamp in 2022
Date of publication 2022-10-02