It makes sense that when you are getting married, you would want your wedding invites to reflect the "feel" you want for the actual wedding day. The most precious day of your life, after all, is supposed to be a time of love and joy. How, therefore, can MyStampReady's personalized wedding rubber stamps assist you with that? Let us elaborate.
Make wedding-appropriate invites that reflect your style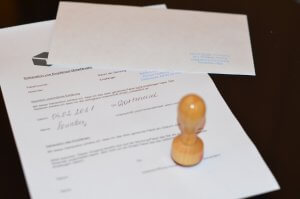 Of course, you could simply purchase some premade wedding invitations, but many of us who are planning something as significant and unique as a wedding desire something a little more than the "mass-produced" appearance.
At MyStampReady, we can work with you to make wedding invitations that exactly capture the cozy, handcrafted vibe you may be going for.
Read More: Great wedding stamp for invitations Created By You With the Help of MyStampReady Tool
You don't need artistic talent to make unique wedding invitations
It makes sense that you might be thinking about the appearance of any DIY wedding invitations you might make. Many of us lack confidence in our artistic abilities, and we also want to create a unified yet "original" appearance for all of our invitations.
Here at MyStampReady, our specially designed wedding stamps are really helpful. As you can see when you go through our collection, the creative director of MyStampReady made them from individual pieces of oak that were procured sustainably.
When searching for custom, handcrafted stamps for your wedding invitations, we have every appealing style you could possibly wish to choose, from straightforward "save the date" stamps to heart border and modern stamps all the way up to wreath, column, and border landscape stamps.
Get stunning wedding stamps from us right now
Additionally, ordering your stamps from us is quite simple, and they will be delivered to your door right away in gorgeously personalized form. Once you order stamps from MyStampReady, your order will be delivered to you.
Stamps with wood handles are excellent for a conventional, vintage stamping experience.
Features:
Available in a variety of sizes

Has a wooden handle for convenient stamping; 

ink is not included. 

The addition of colorful ink pads makes it possible to have a conventional, vintage stamping experience.
Best For: Anyone who wants to utilize metallic or specialty inks or for classic stamping should use this
style of stamp
.
Read More: Personalised wedding stamp Types: How to Choose the Best
Here are four more adorably adorable wedding uses for your rubber stamps!
Drinks, whether alcoholic or not, are a given at any wedding; utilizing an environmentally friendly cardboard coaster is a terrific way to protect your table. Coasters are a terrific way to use your rubber stamps! Each coaster becomes something distinctive and personalized with a creative and amusing design.
Not only are coasters useful, but they also make wonderful party favors! Allow your guests to take home one of your personalized coasters as a memento of your important occasion! A straightforward rubber stamp with contrasting ink will look excellent on any table or location.
Wine Bag or Box with Stamps
If you're serving alcohol at your wedding,
rubber stamps
can be used in a creative and useful way that not only makes excellent use of the stamp but also makes it simple for your guests to locate their table. Everyone will love the statement that a big, bold stamp makes!
You can easily number your tables and create a useful and lovely wine holder by using a large rubber stamp for numbering bags or boxes that carry wine bottles. Everybody benefits from this!
A meaningful tradition is constantly using well wishes tags. You can look back on the thoughtful and kind notes that your family and friends have left you on a tag for the rest of your life. Your visitors will be grateful that you took the time to carefully select your stamp for the thank you notes because these are just as meaningful to them as they are to you.
These good wishes tags are a wonderful spot to put a stamp on your wedding day, whether it's a particular statement or a sentimental image. It enables you and your visitors to participate in something so important.
Read More: How to Make a DIY Custom Address Stamp that is Self-inking in 2022?
A stamped gift bag is the last use for a stamp on the list. As a mark of thanks, many wedding parties give modest presents to the bridal party. If your gifts require a bag, applying a stamp is a terrific way to personalize them even more!
While wedding customs are always evolving, some facts never change. One of them is that visitors receive their very first glimpse of your special day from your wedding invitation. That is undoubtedly the case, but we venture to claim that the stamps—vintage wedding stamps included—are what give the first clues about your event of wedding even before the envelope is opened. Because of this, carefully considering your wedding postage is very important, and you shouldn't wait until the last minute. If you've ever sobbed in the middle of December at the post office because they ran out of festive stamp designs to go with your holiday cards, then just picture how you'd feel if your wedding stamps weren't perfect.
Read More: Make digital stamp with saving
Don't be too obsessed with a single idea
Don't become too fixated on the vintage preface while thinking about vintage stamps for your wedding stationery. This kind of vintage postage is merely another method to give your personalized wedding stamp invites personality and customization without really having a vintage wedding. With images like corsages, hearts, and overt "I do" references, modern wedding postage can accomplish the same feat as the now-discontinued personalized postage stamps, but it speaks less to your particular wedding celebration and general aesthetic.
Every choice made when organizing a wedding, from the flowers to the tablecloths, is deliberate, according to experts of MyStampReady. Curating a postage collection to fit your love story is powerful, and vintage stamps make the experience and effect even more memorable. Couples are only allowed to choose from the postage options that are currently available at the post office, and many couples find that these selections don't always make sense.
Best Locations to Purchase Vintage Stamps
You ought to have a fundamental comprehension of what you're looking for and why vintage stamps are so uncommon and valuable before beginning your study on them or double-tapping all the flat lays of vintage stamps on your favorite stationery feeds. Unlike contemporary stamps, historical postage has been meticulously maintained and kept in unused condition for decades. The aesthetics and tactile feel of the stamps are clearly different from those of the modern stamps you can buy now online or through USPS because they were made on antiquated printing presses that are no longer in use for commercial purposes.
Lean on your wedding providers for assistance as you start putting a stamp-sourcing plan in place. "Stationers can assist you with your postage requirements; if they are unable to resolve your unique vintage stamp queries on their own, they will put you in touch with the specialized suppliers they believe in (philatelists, curators, and stamp collectors, or "stamp aficionados," if you will)." assures experts, who is one of the very sellers that stationers consult for curation refer and advice clients to frequently.
When couples and stationers want their wedding correspondence to stand out, Orozco sells historic postage (personal stamps and pre-curated stamp collections) and offers to curate services through MyStampReady. You just need to complete a questionnaire on her website, which is how easy and basic her approach is. Your replies will help her create a stamp arrangement that complements your upcoming wedding and pays homage to your relationship. Not only that, but she will also create a stamp tale for your wedding invitations that satisfies the necessary postal rate (how much it will cost to deliver your invitation depending on its particular weight, size, and thickness).
Etsy
There are literally hundreds of antique and vintage stores on Etsy that sell and collect modern and historic stamps for special mailings. We advise conducting some research to identify the stores with the most positive customer feedback, high ratings for their impressive stamp collections, and visually appealing product pictures. It's important to be able to see your favorite stamps "in the wild," and for some business owners who are also wedding planners, calligraphers, or stationers, creating styled shoots and nailing wedding detail photos comes naturally to them. You can freely browse the vintage stamps on Etsy by color scheme, wedding theme, or noteworthy motifs.
Include that extra touch to show your visitors how much you value them with the help of personalized wedding invitations; they'll be grateful for more than just the present! An easy and enjoyable method to personalize your gift bags without going over budget is with a personalized stamp. The rest of your wedding preparations can then be completed while you eagerly await the big day. MyStampReady wishes you and your spouse a happy and fulfilling life together for many years to come.
Read more blogs here on how usefull can be stamps:
How to Use an Identity Theft Protection Stamp to Protect Yourself?
How To Use Custom Stamps in Your Handmade Business 2022
The Key to any Business success – Custom Logo Stamp
Date of publication 2022-10-02