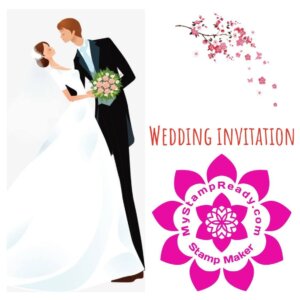 A wedding has lots of synonyms, like "Big Day", "Special Day", because it's an important event in the life of any couple. Preparation for one night of celebrations begins long before the party itself. And of course, every couple wants their daytime to be remarkable and unique! Personalize a memorable event with an original wedding stamp!
Why do you need it? It's a great tool that can be used for multiple occasions:
     Wedding stamps for invitations are a great way to surprise the guests. It can be used for both traditional (old-fashioned paper missive) and modern (online) missive.
     Let it be all about your couple – the names and the date of the Big Day will remind your friends and relatives about the anniversary date.
     Make a seal for the program of the ceremony or seating arrangement. A guest will be happy to see his name hand-written neatly in the center of the seal.
     It's a nice souvenir for many years of marriage.
     It can be used after the wedding too – for example, when stamping the postcards from the honeymoon.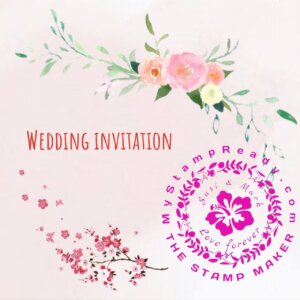 The tradition of having a stamp for weddings comes from ancient times. First, it was royal families and wealthy noblemen who were using the heavy and large seals to announce the marriage of their kids and heirs. In the UK, the tradition is still alive, and the newlywed members of the Royal Family have their personal, richly decorated seals. However, you don't have to be Meghan Markle or have a thick wallet to get a stamp for your Special Day! With modern technologies, it's available for everyone. Regardless of the country of residence, nationality, the number of guests, and the budget you set for the celebration and preparation, you can get your personal wedding stamp! Continue reading to find out where you can get your sketch fast and cheap!
Why make a custom wedding stamp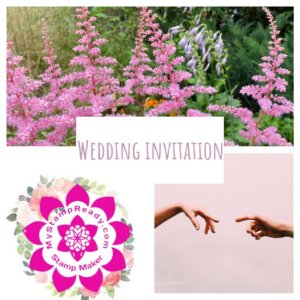 You might not have royal ancestors but still, make your celebration original and one of the kind. A custom wedding stamp with the names of bride and groom, a date to remember and a significant logo is a perfect addition: friends and relatives will keep the missive or postcards for a long time.
Moreover, decorating the standard invitations with a stamp is way cheaper than hiring a designer to make personal sketches for the invitations. There are multiple graphic editors with affordable prices that can help you in creating a stamp layout fast.
The design of personalized wedding stamp can be different and may include:
   text
   graphic elements
   floral patterns
   logos
   images
   couple motto
If you type "stamp for wedding" on Google, there will be numerous examples and ideas. And of course, the imprint made with ink looks way better than just an element printed on paper.
Where to make a stamp for a wedding.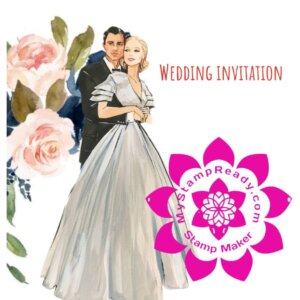 Planning to tie the knot implies plenty of expenses, and the rubber seal was, probably, not on the list. However, now, you are eager to get a unique souvenir of the marriage daytime. Where should you look for it?
Hire a designer.
Pros:
     The professional will do all the job
     You just give the ideas and get the result
Cons:
     Price
     The necessity to stay in touch with one more person (as a decorator, catering, hairdresser, musicians, tailor were not enough, right?)
     You might not like the initial result and waste time on explanations
Do it yourself.
Pros:
     It's as cheap as the cup of caramel frappuccino from Starbucks
     You get the result immediately (no waiting)
     You choose the design that suits the theme of the wedding
     Possibility to make the changes yourself
Cons:
     A limited number of tools
     The necessity to think of the ideas
     Difficult for beginners in design
However, with a good stamp online service, the process won't take long. As a result, no distraction from the main preparations, and a beautiful sketch is ready to be produced. Where to find the editor for making wedding stamps for invitations?
All about that is the next part of the article!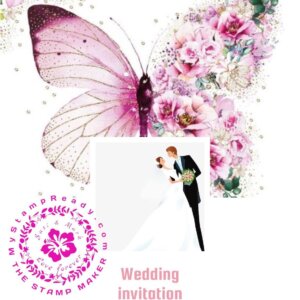 Useful service for making stamps should be easy and intuitive even for beginners. It's unlikely that the groom or bride has any extra time for downloading huge files, installing complicated programs, or buying a subscription to open premium tools! The best services allow seeing the final result before saving the sketch. Try MyStampReady.com – an online website with more than 300 templates and ideas for seals. The service has a large database with multiple examples of a custom rubber stamp: wedding, office, medical, etc. Moreover, you get an opportunity to open any of the templates and build your project on their basis.
Using the seal: tips and recommendations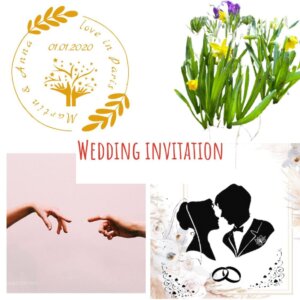 You've got the most amazing sketch in the world for your future celebration. What's next? We recommend sending the layout to the nearest production – unless you are using the online invitations. Once you get a physical seal, try it on any piece of paper to see the quality of the imprint.
Q: How to stamp wedding invitations when sending out wedding invitations?
A: First, find an empty space that is big enough for your seal. Don't cover important info about the event.
Q: Do you put a stamp on the rsvp?
A: Yes, you can use your seal on any type of paper you want – invitation, rsvp, envelopes, table cards, thank you notes, etc.
Q: How much per stamp for a wedding invite?
A: Although stamping is an engaging process, be moderate. Place one imprint on the invitation.
Q: What to do with the stamp after the wedding?
A: A seal itself can become a nice souvenir. Keep it with other significant and memorable things – your photo album, etc. Also, when sending away thank you notes or postcards from the honeymoon, you can also use your stamp for a wedding!
When your wedding invitations are ready to be sent, make sure that every single one of your guests gets them. As a nice gesture, include a set of postal stamps for each guest to send his answer.
We hope that this information was useful and now, you are all set for the biggest and brightest daytime of your life!
More information in our blog!
Make your D-day special with Wedding Stamps
Diy Custom Wedding Stamp For Your Special Day
Custom Wedding Stamps for invitations Created With Stamp Maker Tool
Date of publication 2021-08-06