In today's digitally moving world, push notifications tweets are all we see and receive. You may think The rubber stamp is now pretty outdated, but that is sure not the case. Even when the world is moving on fast, the essence of rubber stamps is still living more than ever. A custom-made rubber stamp helps brands and companies to stand apart. Any customer correspondence for a business always begins with rubber stamps. It is more about highlighting your brand identity. As the number of companies is increasing, the target customers are almost similar. Therefore, a customized rubber stamp is essential to create a lasting impression and differentiate your brand from the others.
For the survival of small businesses, making an identity is important. Hence, a logo stamp is required to become famous and achieve brand recognition. A logo is the best visually communicating path with your customers. Stamp maker helps in creating the best customized logo rubber stamps for your brand. Self-inking custom rubber stamps will serve your purpose and can be used in multiple documenting sectors. Nowadays, an online stamp maker is also available, so you need not worry about it.
6 reasons why rubber stamps are necessary
Custom rubber stamp accomplish more than your particular requirements for your company. The freedom to have your brand's custom-made stamps is fun and necessary. It comes in all kinds of usage. Here, we will give you the reasons why you need a rubber stamp made in 2022.
Documents Authorization:
A rubber stamp is also known as a company stamp. It is very significant as it is the prime reason why people get one of their brands. The rubber stamp with your company's logo will be used to authorize your brand's documents, paperwork, letters, etc. This move will be appreciated and respected by the recipient of the document or your clients. Your gesture will look more proper and professional. When sent with the company's logo, documents or letters will prove the brand authenticity and confirm its origin and the sender. This can also prove its seriousness and not end up being spam or an unimportant letter.
The competition in the present world is intense. Therefore, to stand out as an authorized trusted company, you must give importance to the company's logo and make sure it is present on all letters and documents.
Cost-effective Personalizing tool:
Nowadays, no one writes their business name and initials or messages for communication nowadays. The most significant advantage is custom rubber stamps can be personalized according to your business requirements. Besides, when you promote your brand using personalized rubber stamps, you add share a personal touch with your customers that they will enjoy.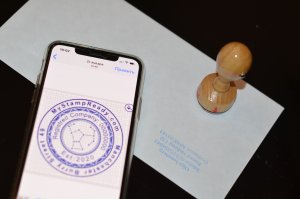 Personalized stamps are inexpensive and an easier way to promote your business creatively. You can get them in bulk from online stamp maker. The custom rubber stamps have the flexibility of an adjusted inking mechanism. You can save your brand expenditure in this manner. Thus, the solution is for a greater shelf time and value for money.
Organize paperwork quickly:
As you have the option for personalizing anything of your need, you can use it to make your work easier. You can create multiple stamps with different words, like paid, faxed, approved, declined, etc., that will be based on the category of your documents. The symbols will make it easier to organize the paper works. You can refer to the papers checking the stamps above without much hassle. Thus, you can work faster and stress-free.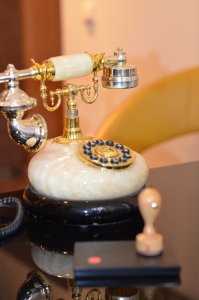 If you have more people working with you, it will be easier for them to understand how the documents are arranged and where do they need to refer. This will save both time and energy. In addition, the work environment can go in a much more disciplined manner as the stamps on the documents will be self-explanatory. No one will get confused with piles of papers and documents as the word is stamped right on top of the document.
Increased brand appeal:
It is essential to maintain your brand appeal and increase awareness. So, how can a rubber stamp help in raising your brand awareness and appeal? A rubber stamp leaves the ultimate brandmark on various papers, files, and documents. When people see it, they get more aware of it. As a result, people trust and rely on a more familiar brand. So, you need to gain the trust of your clients and customers overtime to win in the competitive world.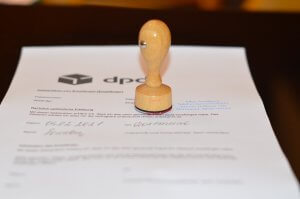 Your brand image must be consistent, and it depends a lot on what goes out of the office building. A brand logo can create awareness in many ways. This can be on branded envelopes, permission letters, contracts, purchase invoices, address proofs, and much more. Hence, custom rubber stamps can promote your brand identity in a unique way and without even any sales pitch. Moreover, it increases your business's creative touch, and many people will tend to love it more. You just need to put the stamp on invoices, envelopes, notes, letterhead, or sign letters before sending them to the clients. This is the most effortless and unique way to promote your business.
Professional gesture:
Branding can depend greatly upon the method you communicate with your clients and customers. Your visual, verbal, and written gestures should always be professional. The logo design, shape, colors, the artwork you select for your business must combine both visual and written communication. Therefore, it is essential for you to craft a visual brand image that can create a strong impact, brand recognition, and positive brand identity. This will uplift your brand name in the competitive market.
You can contact a professional stamp maker, consider his/her inputs and then decide about the design. Remember, your brand identity must look professional and stand apart among millions of similar businesses.
Versatile Surface application:
Ink rubber stamps can be applied across a range of various surface materials. Paper is the most common and available piece. Paper is the most viewed material among accountants, bookkeepers, and many more who keep records of files and documentation. However, your stamps must not be restricted to paper works only. You can apply them on cardboards, product wrappers, ceramics, and other domains where you can mark the products with dates, addresses, importer information, etc.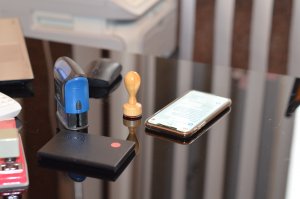 Remember, the more your brand logo is visible in the market, the more your brand will gain popularity. People prefer brands and companies which they see daily. They can trust and rely on them more. A logo that is hardly visible in the market is rarely talked about. Therefore, put on your stamps on surfaces wherever possible and necessary.
Wrapping Up
A rubber stamp saves time money and makes work effortless in the business world. For example, you can add an extra note, "Thank You," on packages you deliver to your customers using your custom rubber stamp. This shows your appreciation and kindness to your customers. We have already discussed why it is an essential tool. It serves more purposes than your company's logo print. You can get the stamps customized as per your requirements from any online stamp maker. So, what are you waiting for? Get your company's logo and other requirements carved into a rubber stamp.
Date of publication 2022-03-19