According to rubber stamp maker, identity theft affects about 1 in 20 people annually, resulting in problems that may take many months to resolve. This fraud can be carried out by criminals using stolen documents, including your personal information, data breaches, or online con artists. You should make sure that any paperwork containing important information is destroyed or blocked out before discarding it in order to safeguard yourself from identity theft.
By rendering the text invisible, identity theft protection stamps can be used to swiftly and easily cover personal information on documents. Self-inking stamps can be used for up to 3,000 impressions before needing to be re-inked, making this a reasonably priced method of maintaining your privacy.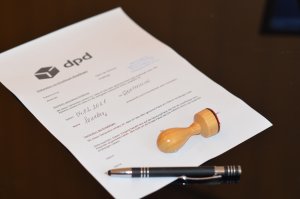 These stamps are excellent for individual use as well as for small enterprises that deal with papers containing sensitive data. Millions of people are impacted by the theft of identity each year, making it one of the most ubiquitous crimes of the twenty-first century. According to an analysis for online rubber stamp, scammers really managed to steal $16 billion from over 15 million victims in the in the year 2017.
While some hackers will make their own fake Wi-Fi base stations to steal your information and infect your device with malware, others will take advantage of security holes in public Wi-Fi hotspots to find their next victim. Some people will even dig through your trash to find personal data they have obtained through credit card bills, bank statements, and other sources.
By blocking it out before you throw those documents in the trash, you can keep your private information, well, private. These identity theft prevention rollers are a perfect solution since they cover your information and conceal it from criminals that engage in trash diving by using ink. While you're here, look into any cyber-security software for further security.
Read More:- Make a stamp online and start your own business part 2
What are some of the top stamps against identity theft?
The best stamp for preventing identity theft are listed below-
One of the greatest stamps for document security against identity theft is the Trodat 4912 Self Inking ID Protection Stamp. It effectively removes text by leaving an impression measuring 5/8" x 1 3/4", and the self-inking stamp body enables you to quickly handle a huge volume. Additionally, this kind of stamp can be re-inked as necessary.
The necessity for a large, noisy shredder is eliminated by the ExcelMark Roller Stamp. It features an adjustable width and a wide coverage area, making it ideal for hiding substantial portions of your sensitive information. Your information is obscured by a special, opaque pattern with just one swipe. You may replace the empty ink cartridge with a pre-inked mount as it runs out, doing away with the requirement for a separate, messy ink pad.
Vantamo provides three free refills (a $6.99 value), ensuring that you always have access to blackout coverage. The ink may be used on most types of paper and is specifically made for concealing information.
A free e-book with identity protection advice is also included with the product. Its distinctive, elegant style makes the ideal accent to any workstation.
Read More:- Illegal funny pictures or stamps of the underworld
What are the uses of these kind of roller stamps?
Guard Your ID's two-piece value pack seeks to, well, guard your ID. Because the wide roller is twice as wide as a standard roller, you can cover more material with only one swipe. It penetrates non-glossy paper using oil-based ink, rendering information on invoices, bank statements, and tax returns completely illegible.
Use the smaller roller that is part of the pack, which is designed to work best with coated finishes on magazines or cards. Its ability to roll easily over curved surfaces, such as prescription bottles, sets it apart from other products. The roller heads on both sizes can be pulled back when not in use to avoid accidental inking.
Wide Roller Stamp by Lionergy
Ink has already been placed inside the Lionergy Stamp. Immediately erase your private information from packages and shipments so you may throw away junk mail with confidence that your name and address are hidden.
An Identity Theft Protection Stamp Re-Inking Procedure
The Trodat ID Protection Stamp and other self-inking rubber stamps can be re-inked by gently depressing the stamp and withdrawing the ink pad. After the ink has absorbed, you can add 5–10 drops more and re-insert the ink pad. This increases the stamp's lifespan.
Make sure you have flash or ink intended for pre-inked stamps before you start. Additionally, because the stamp still has part of the original ink in it, only use the same ink colour to refill your stamp.
Determine Your Pre-Inked Stamp Ink Cartridge in Step 1
Check to see if the ink cartridge on your pre-inked stamp slides. Simply remove the bottom cap to access this. Add 3-6 droplets of ink and slip the ink cartridge back into the stamp if the ink pad and cartridge can be removed from either end.
The cartridge for the handle
You can take off the stamp's handle if your pre-inked stamp does not have a sliding cartridge. One or two droplets of ink can be added to the ink wells once the top of the stamp has been removed. Next, put the stamp handle back on. Before using the ink, let it sit for a few hours to achieve complete ink absorption into the ink pad.
Test the stamp impression on a scrap of paper after the ink has had time to absorb to see if more ink is required.
Keep in mind that once the ink has been added, it cannot be taken out. The easiest way to avoid oversaturating your ink pad, which will result in ink blotting, is to add no more than 1-2 drops at a time. Only a minimal amount of ink is required to revive a crisp stamp impression because pre-inked stamps produce thousands of impressions before needing to be refreshed.
Why would you use a security marking stamp? You use it to swiftly, securely, and conveniently mark your belongings, and that's all. Of course, you decide how to actually label your belongings, but most individuals choose to include information like their name, address, and zip code. The idea is that by tagging your stolen goods, law enforcement will be able to identify them as being yours and give them back to you.
Our comprehensive security marking stamp kit is the best option when you wish to securely mark your goods. It makes use of specialized security ink that is invisible to the unaided eye but can be seen when exposed to UV light. A MaxStamp 3 SI-30 self-inking stamp, dry ink pad, quick-drying UV ink bottle, and UV light key ring make up the entire kit.
Read More:- Company seal production for entrepreneurs using the online designer
However, the fact that our security marking stamp is truly manufactured to order may be its best feature. All you have to do is place your purchase and then provide us with the information and components you want the design to feature, such as the text, borders, and logos. The finished design will then be sent to you through email for review and approval. 
Your artwork can be posted first class the same day or the following working day after it has been accepted.
Don't forget that we also have the essential, quickly drying UV ink that, when exposed to UV light, glows green and can also be used with hand stamps for occasions like parties, events, and nightclubs. In conclusion, we don't believe you'll find better security marking stamps anywhere other than My Stamp Ready, one of the best store for stamp online. Please be aware that based on the brand of rubber stamp, re-inking instructions will change. Before re-inking your stamp, always make sure the ink is suitable for it.
Date of publication 2022-09-05