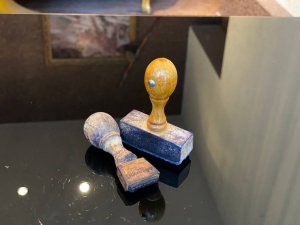 Today, the majority of rubber stamps are designed specifically for business purposes and are custom-made online stamp. These custom-made business rubber stamps often include a firm logo, address, and contact details. The creation of different rubber stamp kinds, each with its own special characteristics, has also been facilitated by technological innovation. You can now design a rubber stamp from MyStampReady.
Looking back into the mists of time, only mystery and romance seem to abound in the soft-yellow light of the gaslight era. All too frequently, its stuffiness, filth, and drudgery go unremembered. It is simple to overlook the fact that the Victorian era was, in fact, heavily regulated.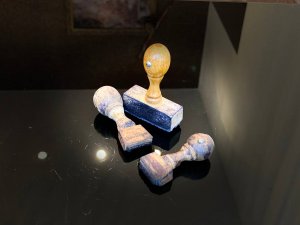 The age of gaslights was the only period in history to have enjoyed bureaucratic tedium so wholeheartedly. In our daily lives, we use rubber stamps for a variety of purposes, including employment, business, branding, hobbies, and arts and crafts. People of various ages may use rubber stamps, which is the best feature!
Let's quickly recap the history of the rubber stamp before moving on to how to design and order your own custom rubber stamp.
Read More: How do you create a signature stamp for your business
Back in the middle of the 1860s, there was a lot of debate regarding who invented the first rubber stamp. In 1886, L.F. Witherell asserted that he had found how to make rubber stamps by fastening rubber marks and letters to the end of a bedpost. He accomplished so with the objective of identifying the wooden pumps through labeling.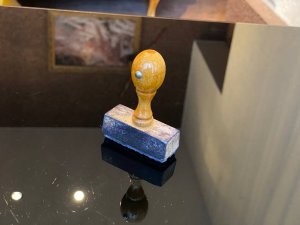 James Orton Woodruff, another claimant, saw wooden wash tubs being imprinted between 1864 and 1866 with hand-carved rubber letters placed on curved wooden blocks and colored with printer's ink. James later established a well-known business to produce personalized stamps in bulk, but none of his stamps are known to exist today because the inks used at the time contained solvents that damaged the rubber.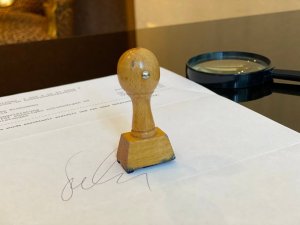 Native Americans are thought to have used rubber stamps to make patterns on their bodies that would subsequently be tattooed. Rubber stamps were utilized in an archaic manner before they were mass-produced for use. For instance, they were used and produced by hand in a number of nations, India being one of them. In India, shapes were molded using crude stamps made of mud. To enable stamping on various substrates, coloring is applied to the molded shapes using additional substances.
Read More: What are the different types of Rubber Stamps used in offices in 2023
How do you create rubber stamps which are customizable?
A personalized rubber stamp offers countless creative opportunities on a budget. Create a rubber stamp for your brand, an address stamp, a wedding stamp, a teacher stamp, and more!
You may quickly and easily create the exact effect you want by uploading a graphic and adding your own text, thanks to the customization program.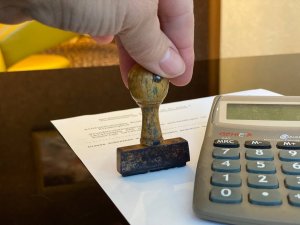 Custom packaging, crafts, DIY projects, snail mail, special occasions, and more can all be done with a custom rubber stamp in addition to logos and small business branding. Publish your design and begin stamping right now!
Read More: How can Rubber Stamps Enhance your Wedding Invitations
Use a graphic upload to make your own logo rubber stamp by following these simple steps.
Find the desired stamp type in Step 1
To start from scratch, go to MyStampReady > Stamps > Custom Stamps.
OR
To access design templates, click on MyStampReady > Stamps >
Logo Stamps
.
Locate the Stamp Mount You Want in Step 2
Choose the stamp size and mount you desire, then click any product to start the subsequent process.
- We'll pick a self-inking stamp here.
Select Your Customizing Template in Step 3
Select the template that you want to use. Every stamp will come with a unique set of options, and this particular listing includes templates for graphic and text, graphic and arc text, just a graphic, and completely blank stamps.
Upload your graphic in Step 4
Add your chosen graphic or logo to
design a stamp
. The graphics tab, please. Simply click "Change Image" if your template already contains a visual placeholder. First, select "Add New Graphic" if there isn't one there already.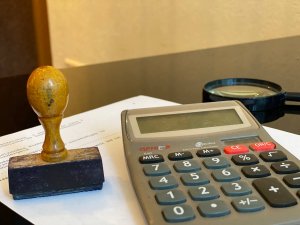 Wherever you have it saved, search for your file. To upload a file, it must be in JPG, PNG, EPS, SVG, or PDF format. The final stamp impression will be of greater quality the better your image is.
The monochrome black-and-white version of your image that is required to convert a graphic into a stamp imprint will immediately upload.
Edit your graphic in Step 5
To get the desired stamp impression, adjust your graphic. By clicking and dragging the blue squares, you may reposition the image on the mounting area and change its size. Click "Edit Effects" to adjust the degree of contrast/crispness in your graphic.
To make the image darker (with thicker lines) move the "Threshold Value" slider down; to make the image lighter, move it up (thinner lines).
Read More: Buy Stamps Online with the Best Tool Stamp Maker Online
Add text, arc text, and ink color in step 6
Want to change the color of the ink or add text to pre-inked or self-inking stamps? Here are the option which you can rely on-
Text Addition, 
Arc Text, and
Ink Color Adjustment
As you can see, creating your own personalized logo stamp is as easy as uploading an image and making the necessary adjustments. For every purpose, select a mount from a range of options, including self-inking, engraved wood, conventional, or pre-inked, and go stamping!
You can view all of the creative stamp designs that all the customers have already created on the page. You can also share your personalized logo rubber stamp.
Read More: How to choose the Best Stamp Maker for your Business
The stamp is transportable and is offered in three colors. The ability to design your own stamp images is the best feature of this stamp. Browse the pre-made templates we have if you don't want to deal with the effort of creating your own stamps. MyStampready's in-house design studio may also assist you. MyStampReady sells these self-inking stamps online. 
How can you create your very own custom rubber stamp?
Adding the stamp item to your shopping cart
When you place your cursor over an image on the website, you may get a closer look at the product. Next to the image, there are two boxes where you can specify the number and color you want to purchase.
Select the quantity and color of your choice. In the same way, as if you had put anything you wanted to buy into a basket, doing this will save the specifics of the stamps until you're ready to buy it.
Click the Checkout button to complete the transaction. The websites require you to create an account, while others let you decide if you want one and still let you make purchases. Signing up for an account will make purchasing products much quicker if you plan to frequently use a website that offers you an option because your basic information is saved.
Read More: How To Design And Create Customized Business Stamp With Your Logo?
Stamps are used to demonstrate your brand's authority on significant papers. It is an important component of office stationery since it gives the validity and credibility of the document. 
However, the free stamps online that you can buy in stores frequently result in a mess from smudges and inked fingertips. Therefore, you absolutely must get this self-inking stamp. As a business owner, you should be able to easily utilize the stamp, whether you're stamping money or goods. Because this rubber stamp is pre-inked, the days of unwelcome mess are a thing of the past.
Date of publication 2023-01-21