One of the most memorable moments in your life should be your wedding. Including personal touches at every stage of the process is one way to make it even more memorable. Customize your stationery, your decorations, your cuisine, and even the stamps that stick to it! This post is about customized wedding stamps, which are a surefire method to make your event more distinctive and memorable.
A rubber stamp is a little tool that can be used to print names, dates, and other symbols on paper after being dipped in ink. The common name for all of these tools is "rubber stamp." But in addition to rubber, other materials such as foam, acrylic, and clear polymer are also used to make stamps.
Custom wedding stamp types
You must first be familiar with the various stamp varieties if you intend to utilize a
customized rubber stamp for your wedding
. Each variety has distinct benefits and drawbacks, which are listed below: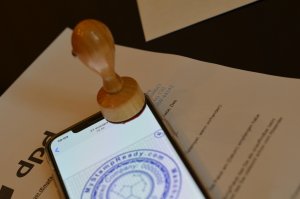 This type of stamp is, as its name suggests, permanently mounted on a wooden block. Other than ink, you don't need to purchase any other supplies while using mounted stamps. They have a tidy, polished appearance and are available in many lovely wedding patterns.
Mounted stamps have the drawback of being larger than unmounted stamps, which makes them more difficult to store. Storage shouldn't be a problem if you want to utilize only one or two mounted stamps for your wedding.
This type of stamp is not permanently fixed on a wooden block, as the name implies. The use of adhesive or cling foam to temporarily mount unmounted stamps is limited. There are some unmounted
custom wedding stamps
available.
Unmounted stamps have the advantage of being less expensive than mounted stamps. They also come as sheets with multiple photos rather than simply one. Unmounted stamps have a polished appearance, just like their mounted counterparts do.
Clear acrylic stamps, like the preceding type of stamp, must be mounted on a block in order to be used. They are obvious, making it simple to position them properly on the block.
Stamps made of clear acrylic have an adhesive surface. They can be mounted without the use of foam or glue. Similar to unmounted stamps, they are inexpensive and have a variety of images.
Another material that may be used to create custom wedding stamps is foam. Other types of stamps are more expensive than foam stamps.
The main benefit of foam stamps is their portability. They are simple to transport and store. They work well for larger stamping tasks like tablecloths, runners, and posters.
Uses for Wedding Stamps
Once you've confirmed the
style of wedding stamp
you prefer, you may use it in a variety of ways:
The first thing your family, friends, and other visitors will see is the wedding invitation. Use a customized stamp to add a distinctive touch to the invitation, save-the-date card, and envelope. Your stamp will give your wedding invitation an exquisite finishing touch that guests can save as a memento of the event.
Give each of your printed wedding programs a distinctive flair by personalizing each one with a stamp. The people in your entourage, the presiding pastor, and other wedding guests will be deeply affected by this.
The order or direction cards will direct your guests to their appropriate tables during the reception. The place cards will be more distinctive and interesting if you add a personalized stamp on them. Even better, they might opt to retain it as a memento of your memorable day.
Your invitations, programs, and place cards don't have to be the only things you use personalized stamps for. It can be used to adorn favor bags, cupcake stickers, and food labels. Almost anything you can imagine that matches your wedding's theme can be customized.
Use your
custom stamp
on notes and thank-you cards after the wedding. Your visitors will value thoughtful gestures.
Keep your customized stamp as a reminder of your special occasion long after the wedding. Use it later to write your sweet partner notes or love letters. One glance at the stamp will trigger memories of your wedding day and cause you to reminisce.
Since you spent so much time and thought on your lovely wedding invitations, you undoubtedly want to ensure that everything about them is flawless, even the stamps. To ensure that your wedding stationery suite is flawless, here is the lowdown on wedding stamps for invitations, including price, appearance, and possibilities.
We must admit that when the US Postal Service discontinued its unique wedding stamp possibilities, our romantic hearts were very unhappy. We adored seeing stamps with pictures of newlyweds and adorable stylized stamps with tiny embellishments like wedding dates and blessings. These tiny works of paper art were simply adorable and lovely. Thank goodness, there are other equally gorgeous choices for wedding invitation postage stamps.
The aesthetic feature of the wedding envelop
One method of giving the envelopes for your wedding invitations a classy and distinctive look is by using custom rubber stamps. Ink pads in a range of colours are available at any stationery store, and you can get them online. The bespoke rubber stamp technique can be used to create save-the-date postal stamps as well. Once you get married, you might even want to start collecting them and stamping all of your letters.
Many businesses sell stamp templates that you may use to add your names, the date of your wedding, and other details that will fit on a stamp. Round stamps have a timeless appearance and subtly reference the eternity-symbolizing shape of a wedding ring. You might prefer square or rectangular shapes. Circles, lines, flowers, geometrical forms, symbols, and of course, text can all be used in designs. When it comes to wedding invitation stamps, you can get quite inventive.
Wedding invitations with vintage stamps have a charming old-world quality that we adore. Therefore, you could be thinking about where to get vintage stamps.
If you want to see what they look like in person, visit your local post office or look online at USPS's collection of historic stamps for wedding invites. Online DIY and art stores like MyStampReady also sell brand-new vintage stamps. Even if finding enough identical stamps may be difficult, an eclectic collection of stamps is just as good. Purchase some additional stamps so that your photographer will have them on hand; they'll want to utilize them for styling detailed photos.
The beauty of old stamps brings back experiences from childhood, history, culture, and many other things. An attractive stamp that fits your wedding's theme is a common choice for wedding invites. It could be a particular hue, a romantic image, or something you want to include like butterflies, flowers, birds, or greenery to describe your day. Three or four different stamps arranged in a collection can look lovely. For a nice occasion like a wedding, stamps with watercolors and calligraphy that have a romantic vibe are ideal.
You can also send save-the-date cards and other correspondence pertaining to the wedding day using vintage stamps.
Beautiful vintage stamps also convey to your wedding guests the thought you put into making the invitations and how important it is to you for them to be there on your most special day ever. For various reasons, we have strong sentiments regarding stamps!
Over time, the price of postal stamps for wedding invitations has increased significantly. Here is a current estimate of the cost of delivering a standard-sized envelope (190 mm x 130 mm envelope).
We appreciate the concept of using custom rubber stamps and vintage stamps for wedding invites. At the post office, you might even discover a set of stamps that is ideal for your day. The alternative is that the post office might stamp your envelopes with morning or incorrect stamps or, even worse, a black stamp that is anything but attractive. Your wedding invitations merit a lovely stamp's kiss.
We hope this blog has assisted you in some way. to enhance the lovely Paperlust products by adding some lovely stamps to your wedding invites. Because the finer points and finishing touches are so significant, we believe that stamps are the ideal approach to finish your elegant wedding-day stationery.
When the mailman shows up with this extremely special delivery from you both, your wedding guests will be even more thrilled about your upcoming nuptials!
Whether mounted or unmounted, personalized wedding stamps are all about giving your special day yet another one-of-a-kind touch. A stamp may be created from rubber, crystal-clear acrylic, or foam material, depending on your preferences.
We are confident that you will think of some incredible methods to use stamps for your wedding if you are a creative person with an eye for design details. We are looking forward to seeing what you create using MyStampReady! ​
Read more blogs here on how useful can be stamps:
How To Use Custom Stamps in Your Handmade Business 2022
Personalized wedding stamp Types: How to Choose the Best
Great wedding stamp for invitations Created By You With Help of MyStampReady Tool
Buy stamps online with the best tool stamp maker online myStampReady
Date of publication 2022-10-02