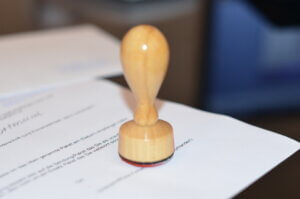 Just like a programmer can't perform duties without a laptop or PC, a notary is useless without a notary public seal or stamp. It's used to authenticate service and make documents official. The notary stamp is the most frequently used tool of a notary public, and it has certain requirements: strict pattern, accurate imprint, and specific position on paper.
Each state requires the use of a personalized stamp. Without it, a document isn't valid or legal. In this article, we provide general information about different types of these irreplaceable tools.
Seal or stamp: learning the difference
These two words are used interchangeably, however, they have different meanings. Let's compare them.
A notary seal stamp is a rubber ink stamp. It imprints the following information:
name;
state of commission;
the expiry date of commission.
Moreover, it might be:
blue, black, or any other hue.
Check local laws before ordering! For example, some colors are prohibited.

Seals can be placed on paper with the use of a metal device called a notary seal embosser. They are of round shape only and used to serve as the traditional method of notarization. Nowadays, these historical ways are replaced by modern ink devices.
There's no strict obligation or law that makes people purchase both inked items and an embosser. One item is enough.
How to correctly notarize documents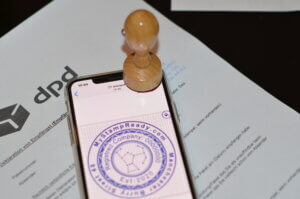 The first step after filling application, taking the exam, paying fees, and insurance is to purchase all necessary supplies for work. The process of getting them depends on the state of residence. For example, when it comes to buying notary stamps, Georgia allows you to order them online.
Before starting notarization, keep in mind the following rules:
The impression is placed on one page (not every sheet of paper);
Avoid covering signatures or printed words;
Avoid imprinting at an angle;
Make sure that the image is clear and readable without missing parts.
However, with modern technologies, it's easy to forget about ordinary methods of work and switch to online services.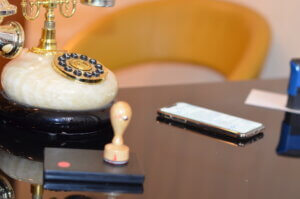 Currently, only 29 states allow to legally perform notarization on the Internet. The full list with updates can be found here. However, remote online notaries (RON) are temporarily available in the state of Georgia because of pandemics. This gives people a chance to continue getting all services without leaving houses.
RON demands the use of a digital notary seal. Without it, documents are impossible to authorize. What is exactly this seal? It exists in a form of PNG file format and replaces ordinary ink tools. It contains the same information and is valid for the whole length of commission.
Types of notary stamps and seals: what to choose
Choosing a reliable tool might be a challenging task. The best stamp will meet the following criteria: easily managed, no need to re-ink frequently, clear and accurate impression. Among the most popular items with over 200 million purchases are the Trodat notary stamp and seal. It's a world leader in selling supplies of this kind. Another famous manufacturer of high-quality products is Cosco. They promise at least 5,000 impressions before re-inking.
eNotary FAQs
Online services are still new to people. Below you can find answers to the most commonly-asked questions.
Is it legal?
Check out if your state has passed permanent or temporary RON laws. You can find the map and list here. All green territories authorize online notarization on a permanent basis.
How much does the Notary stamp and seal make?
It depends on the demand for services, local laws, and the price you charge. Typically, $25 is an average cost.
How do I tell if my stamp is real?
Examine it: find name, commission state, and its expiry date. These three things are to be mandatory present on the surface without mistakes.
Date of publication 2021-02-24