There are various types and options of rubber stamps, so it is quite natural to be confused while selecting the perfect option for rubber stamp design or shape for your business or personal use. There are various types of rubber stamps, including self-inking, pre-inked, and even traditional rubber stamps. Besides those, you can also see daters, custom stamps, signature stamps, and many more. So, before purchasing a rubber stamp from any rubber, you should be aware of the details of a stamp, including its type and usage. So, let us discuss those pieces of information in detail below.
What is a rubber stamp?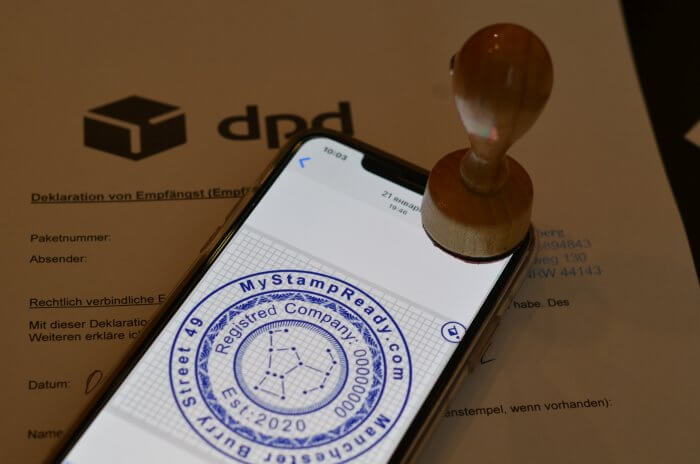 A rubber stamp is a device with a rubber printing surface. That surface can be coated with ink just by pressing on a specific ink-saturated pad, and then that stamp can be used for imprinting addresses, dates, specific designations, notices, and many other important things by hand. With the help of these specific stamps, you can represent your organization or even yourself without any hassle.
Read More: Rubber stamp maker is the best way to brand your business
Types of rubbers stamps 
There are various types of rubber stamps and also several specific ways to choose them. So, let us discuss that in detail.
Pre-inked stamps are capable of producing clear, crisp, and appealing impressions at every stamp. However, a particular drawback to these pre-inked stamps can be that it needs pauses between stamping. These types of stamps do not need any ink pad because a particular kind of gel ink is molded into an impression. You can generally get to see two types of pre-inked stamps. One kind of pre-inked stamp uses gel technology to create crystal-clear impressions that can dry out really soon on glossy paper. This kind of pre-inked stamp can be perfect when you need to produce a rubber stamp for branding purposes because it can create the best imprints.
The second kind of pre-inked stamp is one that utilizes UV "Flash" to imprint your image into the die plate. With the help of double foam technology, it can contain enough ink to create thousands of imprints.
Traditional Rubber Stamps
Traditional rubber stamps mainly need a stamp pad to create imprints. This is the most economical and also authentic method of using a rubber stamp. You just need to press the stamp on your stamp pad then stamp it or press it on the documents. Using these traditional rubber stamps can take up a good amount of space on your table and can even cause a real mess if you forget to cover your stamp after usage. However, these kinds of stamps are getting attention again as you can use these in a flexible way where you can use different types and colors of ink to stamp your important documents or products.
Read More: How To Use Custom Stamps in Your Handmade Business 2022
There is another very popular type of stamp known as self-inking stamps. These types of stamps are created by multiple
stamp making
companies. These stamps have ink pads that are built onto the stamp and are also replaceable. This kind of stamp enables speedy stamping as the stamp can automatically re-ink itself after each imprint or usage. The only drawback to this option is the clarity of its impressions compared to the clarity of pre-inked stamps. However, if you can choose the highly durable and attractive self-inking stamps created and offered by My Stamp Ready, you don't have to face these types of issues regarding
stamps online
. The self-inking stamps offered by
My Stamp Ready
can create high-quality impressions without any hassle.
However, you should also know that pre-inked stamps are usually oil-based ones and hence can work as a waterproof option in comparison to self-inking stamps, as the impressions created by self-inking stamps can be washed off with water.
Besides these three types of rubber stamps, there are some other types of rubber stamps as well, such as:
Signature stamp

: These are a few stamps that come in various styles like Initials, Self-inking, traditional, etc. this can help you to create your signature on your important documents without the need to sign them. 

Custom Stamps

: In these types of stamps, you can imprint a few specific words like "Copy," and "Void", if required.

Date Stamps:

Date Stamps or daters can either contain just a specific date or a few lines with a specific custom message. For indoor office use, you can have these date stamps in a self-inking option, and hence, you can enjoy quiet and smooth stamping.
You can even have these daters in the traditional rubber stamp option and use it with multiple ink pads if required.
Notary Stamps

: these are a particular type of stamp that can be used by only some authorized professionals for official use.
Read More: How to become a Notary Public in the USA
Benefits of using rubber stamps
After having a clear idea regarding different types of rubber stamps and their uses, let us go through the multiple benefits you can enjoy by using a crisp and clear rubber stamp.
You can have enough professionalism
There are not many people who have signatures that are easy to create. If they try to complete their huge paper works in a hurry just by signing it, then the signature may be impossible to read. Clients who see a hurried signature may feel as if the company does not give them enough priority. The hurried and poor signature might give your company or brand a disorganized or unprofessional feel to it.
With the help of a crisp and clear rubber stamp, your signature will remain the same always. It doesn't matter if you are using it on paychecks, timesheets, or any other documents; the signature will always look concise and clear. Your stamped signature will give your entire document an appealing, organized, and neat look. Thus, it can make your entire organization look diligent and well-kept on even the most tiresome of tasks.
You can enjoy quicker paperwork
Writing your signature on important documents can be one of the biggest time wasters in any organization or business procedure. Though your signature is very important, it can still take several hours for any professional to sign a whole lot of documents, timesheets, reports, customer deals, etc. So, it can be good if those professionals could get an easier and more authentic way of completing this task.
Using a good quality rubber stamp can cut this time in half. So, you can just take the stamp and place it on your important documents and mark your own signature with ease.
You can enjoy more marketing
In order to run your business with ease, you may need another type of rubber stamp besides a signature stamp. Those are the stamps with your company's logo. With the help of these rubber stamps, you can imprint the logo of your company on various types of formal documents that you may need to send to your clients. Each time you need to send a letter or document to your business partner, client, or prospect, your company stamp can offer a good impression and marketing for your brand.
With the help of a rubber stamp, you can complete the huge responsibility of stamping important documents within just a few minutes, and hence, can save a lot of your time in the office.
Therefore, with the help of different types of rubber stamps, you can enjoy numerous benefits, along with running your organization or business successfully. For some clear, crisp, and easy-to-use rubber stamps, just contact My Stamp Ready and enjoy stamping online.
Read More Blogs here:
Personalised wedding stamp Types: How to Choose the Best
Circular seal for documents it's sizes and purpose create it
Do you need a Stamp maker program in modern conditions
Date of publication 2022-11-10