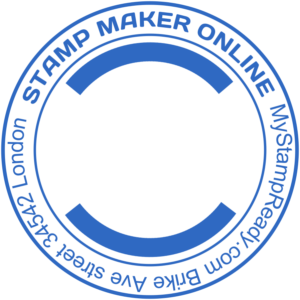 MyStampReady stamp gallery includes the given business seal template in several colors, one of which is blue. It can be customized using the stamp editor by replacing letterings, adding components, or deleting the existing ones. Read the second part of this description to find out what changes should you apply to this particular sample to personalize it.
Round Business seal template with room for a signature or an emblem
Our gallery is full of stamp templates with complex designs and lots of elements, so we decided to add some simple seals, as well. For example, this
business seal template
consists only of two sections, each of which is quite plain. Such a sample is suitable for companies, whose owners don't want their stamps on documents to attract a lot of attention. In most cases, document content is more important than its appearance. However, we still find it necessary to tell you about every part of this stamp and give a couple of recommendations for modifying it. As you can see, the central unit is almost empty. The only 2 elements here are colored rectangles, which are placed at the top and bottom. So, what can you do with this blank space? Well, you can keep it that way if you need to have a signature inside this seal, but it's also possible to insert a logo there. If you still have some clear space around the perimeter left, try adding some text. You can come up with a short slogan, or, for example, type in the date of a company establishment. The external part of this business seal template includes 3 titles, one of which is a website address, and the other two are a company name and office location. If your logo already has a company name included in the SVG file, you can delete the top lettering, which says "STAMP MAKER ONLINE" and change the font size of these two titles to a greater value, so that they make up a full circle together.
Date of publication 2020-07-17