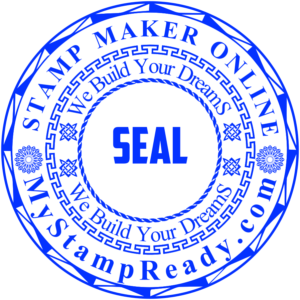 Edit this blue office depot custom stamp using MyStampReady stamp creator. You can remove patterns and replace them with different ones, drag decorative motifs from the stock gallery, and even upload your own company emblems in the SVG format.
Round office depot custom stamp with emphasis on decorations
Office seals are consistently used on almost every document. That is why you should pay a lot of attention to such an aspect as the establishment of your office stamp design.
MyStampReady
offers hundreds of high-quality
office depot custom stamp
. templates to choose from. One of them is the represented blue round seal, which consists of three layers, several titles and a lot of decorative patterns. We consider it necessary to tell you about each part of this template and propose a couple of changes, after the application of which you will have a personalized seal. The core layer only includes one object, which is the inscription "SEAL". You can replace this lettering with a company logo or company name. The border of this section is a decorated circle, which looks like a thin rope. Now, let's analyze the next section. Here, you will notice 2 short slogan samples, which should be changed to slogans of your company. There are also 4 decorative elements, which separate the inscriptions mentioned above from each other. These objects are enclosed in the ornament of a circular shape. The outer layer's border is a thick circle with small triangles, some of which are painted. You can see one inscription and our official website at the bottom, as well. The lettering at the top should be replaced with a company name, while our website should be changed to your official page.
Date of publication 2020-07-26