Nearly everyone has experience with the arduous task of stamping, especially office workers. Seal make a variety of needs. For instance, it is typical to approve something or sign documents, providing a firm mark that certifies the legitimacy of the documents.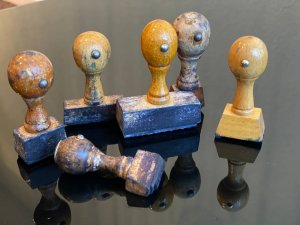 Of course, a stamp is required in order to complete this stamping task. There are numerous varieties of stamps available nowadays. Depending on your demands, you can choose and make seal that is best for you from a variety of options that range in quality and cost.
Most frequently, people employ the standard Singapore rubber stamp. Rubber stamps are reasonably priced and long-lasting. However, given that this advancement in stamps no longer requires a separate ink pad, there are a number of alternatives to rubber stamps that may be more practical at this time, such as self-inking stamps and pre-inked stamps.
Read More: How to create Stamp Online for your Business
However, they all function similarly and offer essentially the same benefits. Read more about the benefits of a stamp below if you're interested.
Having a stamp for your regular office work makes it easier for you to complete your chores more quickly. Given that you will be able to complete your work swiftly during the day, this will undoubtedly have an impact on your productivity. This is incredibly advantageous for both you and the business since, by working more effectively, everyone can free up more time to devote to projects that will advance the enterprise.
Increase brand recognition
The goods you stamp with your stamp bear the logo of your business. There is a possibility that more people will become aware of it as a result. The more individuals who recognize your emblem, the more familiar they are with your business and brand. This indicates that you are increasing brand recognition while using cheap and discreet marketing to reach individuals. It effectively conveys the information without feeling forced or annoying.
The more people who are aware of your business and brand, the more likely you are to win their confidence and the market over rivals.
Read More: How to choose the Perfect Eye-Catching Professional Rubber stamp
You may establish yourself as a company that does business properly and with professionalism by constantly remembering to stamp documents and other relevant deeds with your company logo. As a result, other business partners will have more confidence in you and your abilities. If you can keep up this productive relationship, it will be advantageous for your business in the long run and lead to new prospects.
Make a custom

circular stamp

Click "Templates" to choose a template, or "New Stamp" to create a new stamp.

Choose the round stamp and then enter a value for the stamp size, such as 38mm. Then select "Create."

If necessary, adjust the outer ring's size and thickness.

If necessary, include the "Circle" element.

The "Text in a circle" element should be included. Use the text properties on the right after editing your text on the left.

A "Text in the center" element should be added. Enter and modify the wording to be mirrored in the stamp's center.

The "Pictures" element should be added. You can upload your own SVG format or select an image from the selection of templates.

Use the attributes on the appropriate site to alter the size and position.

When your stamp is ready, click the "Download layout" option to download it.
Online stamp creation is a quick and easy process. Using the MyStampReady tool, you may make a circular, square, or
triangular stamp
. Once you have produced the layout, you can download it as a png, SVG, pdf, or Docx file.
Read More: Is Corporate Seal important? How can I get one?
A graphic editor for generating stamps, viewing stamp and seal layouts, and editing them online. Typically, employing professional graphics editors like Corel Draw, Adobe Illustrator, and Adobe Photoshop is not required in order to make an electronic stamp using the best templates and your brand.
You can order or manufacture using an SVG format from stamp makers close to you, like the MyStampReady or download the layout in several forms to use electronic stamps in documents such as PNG, PDF, and DOCS.
Online digital stamp creators are the kind of seal designers who rely on the best templates and assume either very little or no customer involvement in the layout production process.
Why is using a logo stamp maker to make a unique stamp worthwhile?
You may make any stamp template you like using our seal and stamp designer. The user can build a print layout using the designer's straightforward interface without having to learn applications like Corel Draw, Adobe Illustrator, or Adobe Photoshop.
The first possibility to create a vector stamp was offered by our business. With vector drawings, you may make layouts that:

Any substance can be used to

create a stamp

from a model (photopolymer, rubber).

The image can be of any size.

For intricate arrangements, the image is reduced in size.

You can download the finished design you produced or make a stamp in one of several formats:

Bitmaps are PNGs. It has a high-quality and transparent background with a resolution of 600 dpi.

A vector, the SVG format. You can scale the finished arrangement to any size because the production of engraving does not skip over SVG vector images.

A popular portable document format is PDF. Customer care representatives should stamp the DOCX with their addresses.

The "Store layout" option allows you to save your arrangement. After saving, you may always make changes to your layout.

Our custom stamp maker can only produce rectangle, square, and round stamps.
Read More: Free Digital Stamp Maker Online with saving a Rubber Electronic Stamp Layout
Is it possible to change the rubber wording on the stamps?
Your rubber stamp's text can be changed, yes. To ensure an appropriate fit in the base, the new item must first be prepped. Any issues should be used to wipe away the ink from the text plate carefully.
Before removing the old rubber text and carefully putting the new rubber text in the same spot, make sure the alignment of the text plate is precise. 
Once it has been unlocked, the stamp can be inked.
Online stamp forgery possible?
You can definitely fake a
stamp online
. To do this, adhere to the guidelines below:
Dispatch the online stamp maker's page

Selecting the stamp's size and shape

The fake image you want to use is uploaded. The orientation, color, text, spacing, and other elements can all be changed as necessary.

You may use the stamp anywhere you want by just downloading it.
With our custom stamp designer tool, making a
custom logo stamp
is simple. You can create your own personalized art rubber stamp by uploading your own design or signature or by using our pre-made clipart and text features.
We have a clipart that includes anything from astrology, music, and garden images to the beach and culinary motifs. When using our tool to include text, you can italicize your words and select from a variety of fonts and sizes.
Read More: How to Use an Identity Theft Protection Stamp to Protect Yourself?
The next step is to choose a stamp template and decide whether you want your design or text to be justified to the left, center, or right. Finally, you can decide if your unique logo stamp should have a border. You can then examine your personalized artwork and submit it for ordering.
Date of publication 2023-01-20