Today we continue to talk about the use of seals and stamps outside the office. Stamping is an inexhaustible source of ideas that allow the original transformation of a thing, object, or space. Decorated things and various trinkets can be a great gift and just an expression of any feelings, such as sympathy.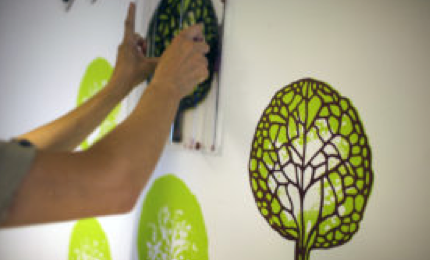 With the help of seals and stamps on the surface, you can transfer any image, and the print size can be any, from micro to macro. One of the advantages of this variant of decoration is that you can realize your idea, even if you do not have the skills of drawing, thereby making the design individual, unique, taking into account the features of who they are intended. Seals and stamps are used even for interior design, and it is not necessarily the usual round seal, there are several options. You can create your own stamp or seal in free rubber stamp maker online.
Wall decoration with their own hands using stamps and seals – this is one of the ideas of their "use" for the interior. Walls are the most essential part of any interior. It is this huge surface of any room in the first place that attracts the eye. Down with empty walls and boring Wallpaper! Stamp the apartment! And if some of this idea resembles squalor on the walls of kindergartens or Soviet interior decoration in a similar way, know that it can be delicious! The main thing is to competently approach the implementation. And in this, to a large extent, we will be helped by scientific and technological progress, far stepped since then. This applies to materials and technologies.

In addition, wall decoration stamping – a chance to show their creativity and give the interior personality. Create write yourself can be directly on the site, after its "materialization" can transform your home as you like. Did you know that stamping has been used for wall decoration for many centuries? But if earlier for this master had to be very talented, so as not to spoil the idea, implementing it, now thanks to modern technology, this work can be done by anyone.
Any surface of the room can be decorated with stencil drawings, letters, patterns. To do this, you need to either prepare a special stamp or order printing online Such original home decorations can be easily done with your own hands, do not necessarily resort to the services of designers, which will significantly save. You can stamp decorative plates, which then transform the walls of the bathroom, hallway, or bedroom. It is important only to observe harmony, that is, the color and the plot should fit seamlessly into the overall interior concept.
With stamps and seals, you can make ornaments, background drawings for decorative techniques. You can even stamp the room with your logo, monogram, and even personal coat of arms. It can be just inscriptions in different fonts, images, or a combination of them. After all, it could be an "interior gift" to loved ones. Imagine, they went on vacation, come, and in the room waiting for their Declaration of love, good wishes, or anything else that you think is important to convey to them.
On special resources, you can view and select print templates or create your own version. After the creative process of creating it is possible to download the print to save your masterpiece on your computer. you can upgrade not only the walls but also the furniture, which then turn from "the same as all" into "something exclusive." It will especially appeal to children, though for adults there are many stories that will enliven the interior.
And start to change the space of your home will help you online designer seals and stamps which allows you to make your own seal or stamp in seconds. This will be the first step, quick, easy, enjoyable, and creative, thanks to the fact that it is convenient to use, and that it can be used to make any print sketch. Reading our blog, You will learn a lot. And it is not only interesting but also can be useful in life. We try to make our blog not only informative but also useful. See you on the pages of our website!
Date of publication 2019-09-09