Rubber stamps are used in multiple ways for facilitating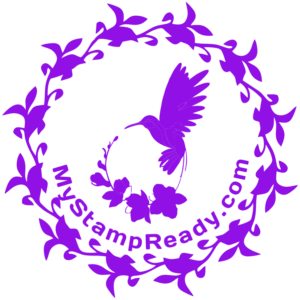 Seal editor can help you in working on the project for your original rubber stamp for wedding. Create the design of your dream in our online stamp maker.
Preparations for wedding usually take a lot of time and efforts, because couples are trying to make this day perfect. MyStampReady offers every bride and groom a solution for invitations for the Big Day. Use online stamp maker to create the memorable and unique design. This template can be used as an example for your own rubber stamp. It's an actually universal tool that save you a lot of money and time. For example, a decorative seal like this can be used for stamping invitations, envelops, postcards and albums with photos. What can be better to remember your wonderful event forever? The style of this sketch is simple but really mesmerizing. In the middle, there's an image of bird, a symbol of peace and happiness. The bird holds a beautiful branch with flowers. If you like this logo, you can add your names to this sketch on MyStampReady.com and proceed to saving the result of your design. Before you save your layout to PC, be sure to check if you tried every option we offer in our stamp generator. You can perform multiple modifications with text and images. For example, once you add the names of bride and groom to your wedding stamp, you can alter size and fonts of the phrase, made the letters bold or italic. Moreover, it's possible to shift the entire writing to any side of the sketch. Under the logo with bird, there's a phrase 'mystampready.com', which can be replaced with the address of your venue, the date of marriage, or any other beautiful words about love. The outer frame is made in the shape of leaves, and creates an interesting effect. 
Дата публикации 2020-09-01