Make a seal for your company with individual design online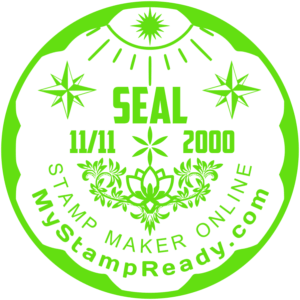 Seal and stamp maker is an ideal solution for business owners. Work on the design of your layout for a future stamp and get the result that you like without hiring professionals.
Round seal is the most essential tool for every business. The work of the entire company is impossible without it. With MyStampReady you can create your own rubber stamp for less than 30 minutes! Work on your project online and save money with our convenient stamp generator. Use this template to make your own sketch for a company seal. Each part of this template can be modified on our website. Just open this project in the graphic editor and start the process of creation. This is an unusual design, as we can judge looking at the outer frame. It's not a standard solid line, but a decorative one. In the middle, there's a word 'seal' and date 11/11 which stands for a foundation of the company and the year of 2020. Click on the text and change the words, replacing them with information about your business. It can be mane of your brand, date, address, or any other phrase that you want to add. Moreover, you can alter the whole style of text and turn your rubber stamp into individual office tool. For example, it's easy to change fonts, size and position of each phrase in our online stamp maker. As a result, there will never two alike projects. With the possibilities of MyStampReady no stamp will be the same. Around the text in the center of the template, there are several images. If you like this decoration, no additional work to be done – just replace the text. However, each image can be deleted or replaced with another one. We have a vast collection of logos divided into theme groups, according to the type of business. Stamp maker online is a great opportunity to save both money and time. You don't pay a designer and can get beautiful and interesting template in less than half an hour. 
Дата публикации 2020-08-28