Designer of round seals works in online mode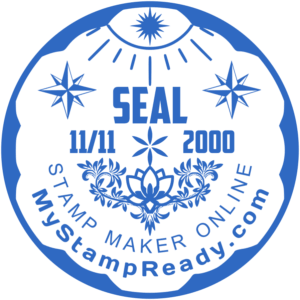 Designer of round stamps allows you to quickly produce high-quality seals no worse than in a printing company. And all this can be done without leaving the house.
If you need a round seal, then pay attention to the online tool on the MyStampReady website. This is a real designer for round stamps. It has everything you need to make an impression no worse than in a printing company. The service allows you to create several circles on the impression with letters on the circle. You can also adjust the length of the arc that the text follows, its starting point, and the radius of the letters. These settings are made easily using the switches and sliders. You will not need to enter any parameters, and understand how it turns out. The online round stamp constructor does all this automatically and gives you a preview that shows the result of the work. You can make several circular lines, text fragments in a circle, and an inscription in the center. You just enter the letters themselves in the form field. Above it, there are tools for formatting the label. You can change the font family, size, and formatting. You can upload standard images for placement on the impression, as well as your own images in svg format. The online service allows you to save and download the result. You will be able to use this layout in the future to order. Moreover, the application allows you to immediately send the received impression for production. The printing shop closest to you is automatically selected.
Дата публикации 2020-08-28