Round seal of a doctor using the online constructor MyStampReady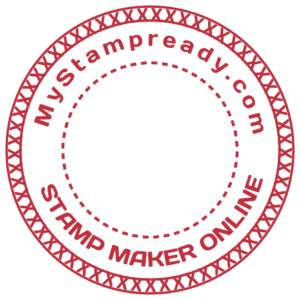 Round seal of a doctor may be required by specialists working in medical institutions to certify seals. You can make a layout for it in MyStampReady.
You can see a picture of a bright blue color, which shows the impression of the round seal of the doctor. The drawing looks quite attractive, informative, and you can immediately recognize it as belonging to a medical organization. Here, the corresponding logo consisting of several elements is located in the center. Snakes are depicted, which are often found on the logos of pharmaceutical companies, medical companies, and pharmacy kiosks. The background in the center is white, and the logo on it is made blue. The outer part of the circle is made in blue, with information drawn along the arc. Here you can put the details, specialty of the doctor, his last name, first name and patronymic. You can make such a beautiful layout yourself in the online constructor MyStampReady. This convenient development allows you to quickly and without prior training to make your own doctor's seal. Go to the MyStampReady website and use simple tools to make the same impression or even better. To speed up the process, the app developers have already made preparations for different situations. Among them there are round medical seals. Load the appropriate blank and bring it to mind in the constructor. To do this, you can enter text, change its size, font, and location. If you already have a logo in svg format, then immediately upload it and place it on the created sample. As soon as everything is ready, you can download the result or immediately place an order in the printing house nearby.
Дата публикации 2020-08-06