How to make a beautiful doctor's seal yourself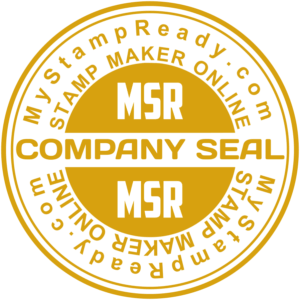 Make a doctor's seal may be required in any situation. For example, when opening a clinic. The MyStampReady service will help you do this quickly and efficiently.
You can see a green impression on the image. In the center is a picture in the form of a bowl with a snake wrapped around it. This immediately hints at the medical nature of the organization that has such an impression. These images are usually found on the logos and signs of pharmacies. But the doctor's seal is shown here. The Central part of the image is framed by a circle with zeros drawn along the arc. But on a real seal, they may be replaced by an INN, license number, and other similar data. The outer circle is made in the form of a branch. The seal looks solid and beautiful. You can make a doctor's seal yourself in the same style. There is a MyStampReady service for this purpose. It allows you to get rid of trips to printing companies and coordinate the future impression with them. This is no longer necessary. Just sit down at your computer, go to the MyStampReady app site and make the layout yourself. Here you will find all the tools to do this. You can format text using buttons, drop-down lists, and sliders. You can change the font size, bold, tilt, font type, and so on.you can change the position of the label on the stamp. To do this, there are settings for the starting point, radius, and arc length of the text. In the center of the impression, you can upload an icon with a logo to decorate the future seal of the doctor. If you can't figure out how to get started, just upload one of the blanks on the site and edit it.
Date of publication 2020-08-14