How to quickly make a doctor's signature and seal in one impression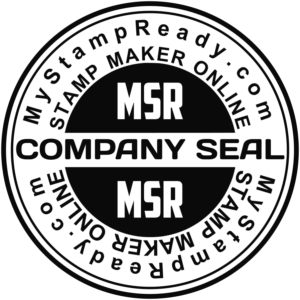 The doctor's Signature and seal is used by medical specialists to certify various documents. It became easy to make a layout of such a print thanks to the MyStampReady service.
On the image you can see a professional impression of the doctor's seal. In the center is a circle with two icons and the inscription "DOCTOR" in large letters. On top of the inscription you can see a small suitcase with a white cross. And under the letters, the icon is larger, made with snakes in a recognizable medical style. The surname, first name and patronymic of the medical specialist are written in a semicircle at the top. The doctor's specialization is also indicated in a semicircle at the bottom. The template is framed by a circle. Red color is used. If you need a similar sample, we will tell you how to make it quickly. For self-development of stamps, there is an online application MyStampReady. It is designed for those people who do not own graphic editors and do not have design skills. All the tools for creating and editing a layout are implemented as simple tools. These are text fields, buttons, and sliders. It will take no more than half an hour to understand the process. If you have no idea what a doctor's seal should look like, MyStampReady offers several templates available in the constructor database. You can upload them to the work field and edit them as you want. This greatly simplifies the work. If you like the image, you can simply change your last name, first name and patronymic, as well as your specialization in the editor. You can also change the image in the center.
Дата публикации 2020-08-14