Creating the seal/stamp of a GP yourself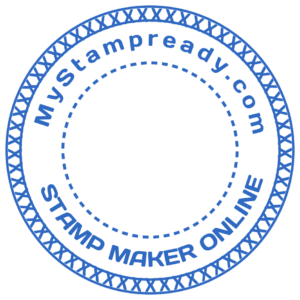 Seal of a General practitioner, which is used by medical professionals in their practice, can be made in half an hour in the online constructor MyStampReady.
The image in front of you has the therapist's seal drawn in blue. Maybe you don't immediately realize that this is so. But if you look closely, in the Central part you can see a snake that wraps around the Central figure. On both sides of it are branches with leaves. Perhaps it symbolizes medicinal plants. The composition is framed by a line that resembles the coat of arms of a city. And the outer circle consists of two lines, as well as alternating blue and white segments. If you need to make a seal or stamp of a GP for use in your work, use The mystampready constructor. This unique app allows an untrained user to create a similar layout in just half an hour. To do this, you need a computer or laptop, a browser installed, and Internet access. If you have absolutely no experience in designing layouts, then MyStampReady allows you to download any version of the therapist's seal from the database of ready-made samples. Then you can simply change your stamp details, change the position of the elements, and upload your logo in svg format. If you spend a little time and understand how the app works, you can create an impression from scratch. The finished layout can be downloaded to your computer and used for ordering. Or you can send it online to the printing house for production from the MyStampReady constructor window.
Дата публикации 2020-08-06