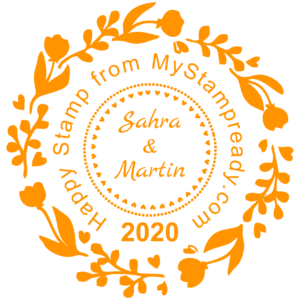 In MyStampReady service you can order printing on the most favorable terms for yourself and with a guarantee of consistently high quality. On the site you can find answers to questions
Orange stamp with names and year of stamping from MyStampReady.
The orange stamp with 2 names and the year of stamping from the online service MyStampReady. Editing of stamps for individual needs. A large number of font and stamp tones customization. The seal is made in orange. It has a round shape and the outer border resembles a wedding wreath. It consists of flower buds, leaves, and stems. Immediately after the outer border is a congratulatory inscription with the name of the person who gave the paper, where the seal is stamped. The inscription forms a circle, the bottom of which is closed by the year in which the stamp is placed. The inner circle of the stamp has a border consisting of small dots. Immediately after it comes another circle consisting of small hearts. Two names are written inside it. Such a stamp design makes it clear that it is intended to be placed on greeting cards that are given to newlyweds. In addition, the stamp can be used for stamps on greeting cards that congratulate anniversaries of life together, another memorable date.
The MyStampReady online service
makes creating stamps much easier and allows you to make a stamp that perfectly meets your requirements.
Date of publication 2020-07-26