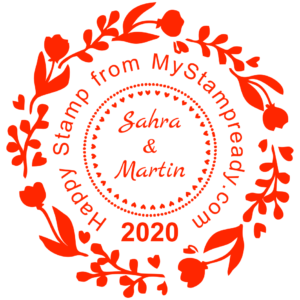 Everyone can order high-quality seals and stamps on the website of the MyStampReady service, which is a leader in the creation and manufacture of seals and stamps
Red Wreath Stamp online service MyStampReady.
Red wreath shape seal with 2 names from online service MyStampReady. Ideal for a greeting card for the newlyweds. Large selection of stamp settings in the online service MyStampReady. The stamp is made in a red hue. It has a round shape. The outer border of the stamp resembles a wreath given to newlyweds at a wedding. If you look closely, you will notice leaves, flowers, and stems in the design of the outer border. The outer border is not solid, has breaks in certain areas. The outer border is followed by an inscription that forms a circle. The inscription can encapsulate the greeting that you want. So, with a stamp you can send your congratulations on a wedding, a housewarming party, a birthday. The bottom of the circle is closed by the year in which the stamp was used. In the center of the stamp are 2 circles. The outer one consists of small dots that are spaced a small distance apart. The inner one of the central circles is made up of hearts. Two names are written inside of it. You choose which names to add to the stamp. You can create a stamp as quickly and easily as possible through the
MyStampReady
online service. The editor contains quite a few stamp settings, allowing you to make exactly the kind of stamp you need for your needs. You can change the fonts, the distance between the characters of the stamp.
Date of publication 2020-07-26