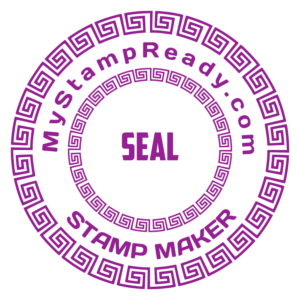 The stamp has a purple coloring. The outer circle has a border that resembles an ornament. The border has many square sectors, each of which forms a mini-labyrinth.
The purple stamp with an unusual external border and several inscriptions from MyStampReady.
The upper part of the inner circle includes an inscription - information about the network address of the organization. The lower part contains the name of the organization. The inner circle of the
monogram stamp
has the same border as the outer one. The difference is in the size of the sectors forming the border - the inner circle is smaller than the outer one. There are no other figures inside the circle, but the SEAL inscription is in the center. The stamp is used together with a signature to deal with various documents: agreements, decrees, resolutions. Stamp does not relate to additional protection of documents, but serves as a sign of distinction of the company. The stamp is obligatory for companies, which plan to give receipts to buyers instead of receipts. The receipt of payment refers to strictly accountable forms, has no legal effect without a stamp. Stamp is also mandatory for companies that intend to hire people. The stamp is affixed at the conclusion of an employment contract, the dismissal of an employee from the organization. In addition, the stamp is required for the registration of travel vouchers for corporate vehicles.
Date of publication 2020-07-26