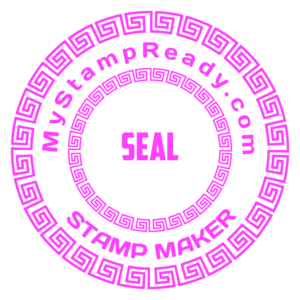 The self inking date stamp is one of the key attributes of legal entities and individuals who do business in the Russian Federation. Stamps are also used by government agencies.
Pink stamp with the organization address, company name and inscription SEAL.
Stamp is used when performing legally significant actions with documentation. So, it is used to: Approve agreements; To certify orders that apply to the employees of the company; Confirm the execution of actions with important regulations. The seal in question has a pink color. The border of the outer circle is a set of "labyrinths" connected into one. Inside the outer circle is the internet address of the company. At the bottom of the outer circle is the name of the company. The inner circle copies the outer one, differing from it only in size. Inside the circle is the inscription SEAL. It takes a few minutes to
create a stamp
. To do this, you need to use a special editor that allows you to change: the radius of the text; The distance between the characters in the inscriptions; The size of the circles; thickness of lines. Also, the
MyStampReady
stamp editor allows you to change fonts.
Date of publication 2020-07-26