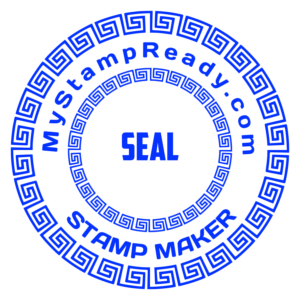 The company personalized wax seal can be created both during the registration of the company and later, e.g. if the previous stamp has been lost or damaged. All costs of creating a stamp should be reflected in the accounting and tax records.
Stamp with blue coloring, web address and company name includes numerous stamp settings.
Stamp in its purpose resembles a signature in documents, but has less legal value. The stamp in question is blue in color. It includes two circles. The outer circle is several sectors that resemble mini mazes. At the top of the outer circle is the web address of the organization. At the bottom of the outer circle is the company name. The inner circle is similar to the outer circle, differing with it only in the size of the sectors. In the center of the circle is the inscription SEAL. The stamp can be used to: To certify the documents that the company uses to interact with the staff, customers; Draw up the decrees required to carry out legally significant actions; create documents that are necessary for cooperation with suppliers of raw materials, equipment. Print design can be adjusted by the company through the
MyStampReady editor
. The user can change the settings of fonts, the distance between letters and numbers, the thickness of the borders of circles. Also the radius of the circles the stamp consists of can be changed with the editor.
Date of publication 2020-07-26