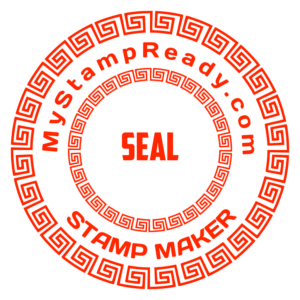 The stamp additionally confirms the authenticity of your company's outgoing document. The stamp also provides additional protection for your management's signature.
A stamp with red coloring and beautiful borders from MyStampReady.
In certain situations, especially when interacting with government agencies, without a stamp the document can be considered invalid and rejected. Stamp is used in most situations to save your employees' time. Thus, the stamp is needed, if necessary to inflict on the internal documents of the company repeating information. Typically, the seal is used in the paperwork, as well as employees of the accounting department. Stamp is often put near the signature of the responsible person. Often there is a special mark "M.P." on the forms, indicating the place where the stamp should be affixed. The
label stamp
in question is orange in color. The outer and inner circles consist of a large number of curls. The difference between the circles is in their size - the inner circle is smaller than the outer one. The top of the seal contains the internet address of the company, the bottom - the company name. At the very center of the seal is the inscription SEAL. The multifunctional editor
MyStampReady
allows you to
make exactly the stamp
that suits the style of the company. In the editor it is possible to change the size of letters and numbers and the thickness of lines. You can also change the distance between the characters.
Date of publication 2020-07-26