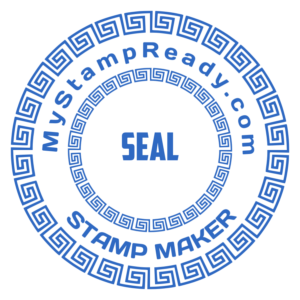 The stamp is a rounded cliché, by means of which impressions are put on documentation. Stamps are needed to confirm that the papers belong to the company, to certify their authenticity.
Stamp with blue coloring, web address and company name from MyStampReady.
Special requirements and state standards for stamps for legal entities and individual entrepreneurs are not legally provided for. There are only general requirements that apply to stamps for legal entities and individuals. Thus, the seal must: have the form of a circle; Include the full name of the company; contain an indication of the location of the company (the subject of the Russian Federation can be indicated). This seal is blue in color, which differs is from
fake stamp
. The outer border of the stamp consists of a large number of curls. At the top of the stamp is written the network address of the organization. At the bottom of the stamp is the name of the company. The inner circle is a reduced copy of the outer circle. In the central part of the stamp is the inscription SEAL. The stamp can be customized according to the needs of the company through the
MyStampReady editor
. The stamp maker provides a variety of settings that allow you to create exactly the kind of stamp required by the organization. You can change fonts, the size of circles, the thickness of lines.
Date of publication 2020-07-26