Approved seal in blue round form with the design stamp font
All
Auto-Moto
Audio-Video
Business
Design
Home, Family , Kids
Animals, Plant
Internet
Arts, Fashion
Computer
Medicine
Music
Science, Studies, Education
Rest, Entertainment
Law, Economy
Religion
Agriculture
Construction, Real estate
Engineering, Technology
Tourism, Travel
Enthusiasm, Hobby
Finances
Hoteis, Restaurants
Monuments
Transport
Sport
Nature
Russia

/Россия

Ukraine

/Україна

Kazakhstan

/Қазақстан

Lithuania

/Lietuvos

Armenia

/Հայաստան

Belarus

/Беларусь

Uzbekistan

/Ўзбекистон

Spain

/España

Germany

/Deutschland

Poland

/Polska

Slovenia

/Slovenija

Estonia

/Eesti

Kyrgyzstan

/Кыргыз Республикасы
Unfortunately in your city there are no registered manufacturers
Without handle
Thank you, Your order is working! We'll call you soon.
You can continue edit stamp or create new
Select the shape of stamp
Have you checked the spelling?
Please note that the manufacturer is not responsible for spelling errors and the correctness of the entered data.
In the elements [ ] are missing text in the input fields. Enter the text or delete an item by clicking the cross next to the item number
You want to download the print layout
PROMO

2.5 $

PNG Format
High Quality
Transparent background
View
Download
ECONOM

3.5 $

Format PNG + SVG
High Quality
Transparent background
Scalability
Download
PREMIUM

4.5 $

PDF + SVG + PNG
High Quality
Transparent background
Scalability
Download
GOLD WORD

5.5 $

DOCX+PDF+SVG+PNG
High Quality
Transparent background
Scalability
Download
In order to continue, pay 63
After payment, a button will appear in the stamp generator

to download the layout, the same layout will be sent to your mail(If the button does not appear, refresh the page by F5).
Specify your e-mail
If the payment page does not open, do the following:
1. Disable the Adblock plugin (or other ad blocker.
2. Clear your browser cache
3. Temporarily disable ad blocking in the firewall (antivirus) settings
You want to save the stamp layout
Write to your mail with a link to the saved layout.
To display the stamp designer of the mobile version, click on the button below
Stamp designer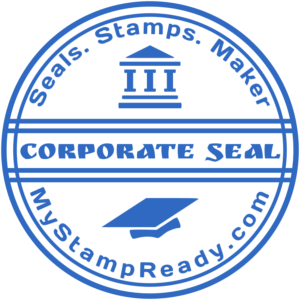 Custom stamp round for in blue color made by stamp maker mystampready.com
Basic Steps When Making a Seal The process of making a seal is basically the same as when making a paper. The first thing you need to do is to get your hands on a pair of latex gloves. In the past, we used to use a cotton sock for this task. However, with advances in technology, it is now possible to buy latex gloves from various suppliers and make your own seal. There are different brands of gloves to choose from, and you should ensure that the gloves you buy are compatible with your application tool. Some of the different brands, you can buy include Purel and Bonded latex gloves, which are among the most popular brands in the industry. Another step you need to take in order to prepare your material is to get hold of a tube of latex paint. You will also need a small tube of paint thinner. In order to get a good quality paint job, you may want to get some primer before painting your sealer on, or to apply some paint thinner to make sure that the color of your paint is consistent. Once you have got these items, you can now proceed to the next stage of the project, which is sealing your sealer on to your material. One option available to you is to spray a sealer directly onto your material, but this can be quite messy and requires a lot of work on your part. If you do not have the time or patience to do this, then you can always go to the local hardware store and ask for assistance. Before you apply your latex paint to your object, you need to make sure that the paint is completely dry before you proceed to the next step. There are a few methods available that can help you with this. If you prefer not to use a brush, you can always get a pair of tweezers, or even a pair of gloves if you feel uncomfortable with the idea of applying paint directly to your surface. This way, it will ensure that the paint will come out perfectly on your sealer. In order to finish your project, you can always spray your sealer off of a spray gun. However, this method is not advisable for those who are inexperienced in this field as it will cause them to mess up their latex gloves. In order to avoid this, you can also use a piece of scrap paper instead of a brush to cover your surface.
Дата публикации 2020-07-09