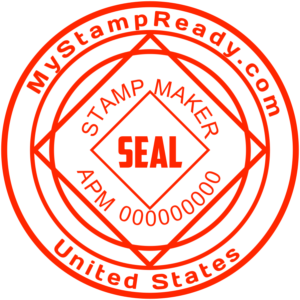 Orange stamp with several sectors, company name, organization's web address. MyStampReady Stamp Editor is simple and easy to use.
Colored Stamp with Web Address of the Company by MyStampReady.
All lines and symbols of the stamp are orange in color. The borders of the 1st, outer circle, are the thickest. Following them, at the top of the
red wax seal
, is the network address of the organization. At the bottom is the name of the state on whose territory the company is registered. The 2nd circle does not contain any inscriptions. Inside the 3rd circle there is a rhombus, the corners of which go outside, occupy the top, bottom, left and right parts of the 2nd circle. The upper part of the rhombus contains the name of the organization. The bottom of the rhombus contains additional information. In the center of the rhombus there is another figure of the same size, which is smaller. In the center of the small rhombus is the inscription SEAL. The stamp made in the
MyStampReady
editor can be used for: - certifying documents; - approval of business agreements; - documentation within the organization. The
Stamp Editor
provides for several settings. Here you can change: - the distance from one symbol to another; - the size of the characters; - the thickness of the lines; - the size of the circles; - the content of the inscriptions. The MyStampReady editor is very easy to use, because it has an intuitive interface. Through the editor, you can create the print that your company requires.
Date of publication 2020-07-26