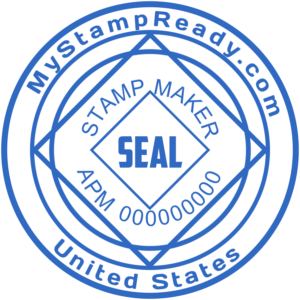 Blue company seal with several sectors, web address and SEAL lettering. Quick and easy stamp creation with MyStampReady.
Colored Stamp with the www address of the company.
The
handmade stamp
is blue in color and consists of solid lines. The border of the outer circle is the thickest. At the top of the outer circle is the internet address of the company. At the bottom of the outer circle is the name of the country where the company's office is located. There are no inscriptions inside the 2nd circle. In the 3rd circle there is a rhombus. The corners of the rhombus extend beyond the inner circle into the 2nd circle. At the top of the rhombus, the name of the organization is written. The lower part of the rhombus contains additional information about the company. Inside the figure is a small rhombus that occupies the central part. In the middle of the small diamond is the inscription SEAL. The inscription is written in a thicker font, which allows the central part of the stamp to be accentuated. The stamp would be useful for practically any organization that certifies documents, approves important agreements. The stamp can be created in just a few minutes. The
MyStampReady
editor settings allow you to change the radius of the lettering and the thickness of the letters and lines.
The Stamp Editor
also allows you to change the font used to adjust the
design of the stamp
.
Date of publication 2020-07-26