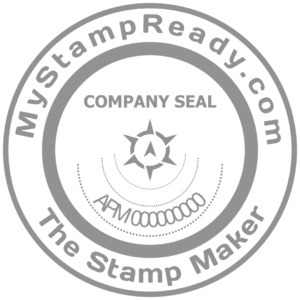 The stamp consists of lines and characters in gray coloring. The border of the outer circle has a small thickness. In the upper area of the outer circle is an inscription that contains data about the company's website address.
A gray multi-circle stamp with the company name and additional information about the company.
In the lower area of the same circle is the name of the company. The border of the inner circle is thicker than the outer circle. In the middle of the inner circle is a circle with several protrusions. In the center of the circle is a small triangle. The circle with the triangle inside is similar to a star in appearance. Above this circle is the
COMPANY SEAL
inscription. Below the circle are 3 arcs of dots. Between the middle and large arcs is additional information about the organization. The large arc is located directly at the border of the inner circle. The gray
brand stamp
is intended for use by legal entities, individual entrepreneurs. The stamp can be made with the special editor
MyStampReady
. The
stamp editor
allows you to change the distance from one character to another, the thickness of lines, fonts. Also, using the editor, you can add the information about the company that you need to print.
Date of publication 2020-07-26