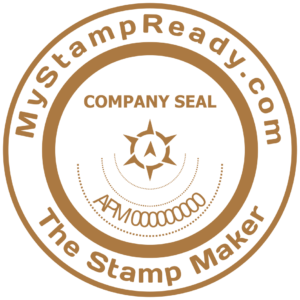 To qualify as a legally valid document, the paper must contain a signature and stamp that certifies its authenticity. This statement is valid if the stamp fully complies with current regulations and requirements for such products.
Round stamp with an original figure with fine-tune the print features.
No organization can do without stamps. Stamps are also required for entrepreneurs who develop their business. The presence of a stamp is a prerequisite for the work of organizations. In addition, the tradition of approving documents and financial statements with more than just a handwritten signature also affected the IE. You can make a stamp that meets your company's needs in the
MyStampReady editor
. The stamp in question has a brown coloring. The outer border has the usual thickness. The 1st sector has 2 inscriptions. At the top is the network address of the company, at the bottom is the name of the company. In the center of the stamp is a circle with a thickened border. At the top of it is the inscription
COMPANY SEAL
. In the lower part there is additional information about the company. In the center of the circle is an unusual figure, which is a six-pointed figure with a circle in the middle. From the figure departs three arcs, which consist of small dots. The 1st arc has the smallest radius, the 2nd has the middle radius, and the 3rd has the largest radius.
Date of publication 2020-07-26