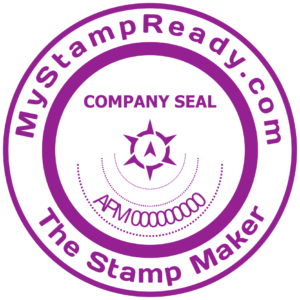 Every businessman has a stamp. Both government agencies and commercial firms have a stamp. It is possible to find a beautiful stamp with the name of the organization or the personal data of the director on different papers.
Purple stamp with a round hexagonal figure - customizable stamps with the multi-functional editor.
Not always the same handwriting is not enough to approve documentation. It is worth remembering that a
stamp without a signature
has no legal force. It is used for additional protection of documents. This is a sign of the company, distinguishing the company from other organizations. It is up to the company to decide whether to use the stamp or not. However, if the entrepreneur made a stamp, he is obliged to use it. It is possible to
create a stamp
that perfectly corresponds to your organization with the help of the editor
MyStampReady
. The stamp in question has a purple coloring. The outer border has a standard thickness. At the top of the stamp is the company's network address and at the bottom is the company name. The inner circle has a thick border. In the middle is a circle with 6 projecting triangles. In the center of this circle is also a triangle. Above the hexagon is the inscription
COMPANY SEAL
. At the bottom of the inner circle is additional information about the company. In addition, there are 3 expanding arcs of small dots.
Date of publication 2020-07-26