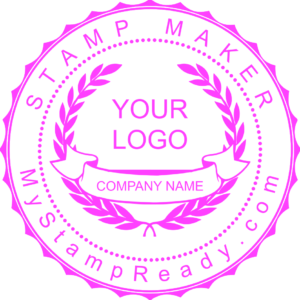 Round stamp with the logo in the middle and company name with the website address
Unique stamp with individual features made in functional seal editor.
The stamp is necessary for the organization in such cases: 1. The firm makes payments. Not all organizations provide regular checks. Many firms still work with payment slips. The latter are special forms that require reporting. If there is no stamp on the slip, it is just a piece of paper that has no legal value. 2. The organization has hired employees. The management of a firm that has staff keeps strict records. The manager must stamp various papers. First and foremost, this applies to employee paperwork. 3. The firm uses corporate vehicles. In such organizations, trip sheets are drawn up every day, on which it is necessary to
put a stamp
. The stamp under consideration has a pink coloring. The outer border of the stamp contains many protrusions. At the top of the seal is written the name of the company, at the bottom - the Internet address of the organization. In the center of the stamp is an image of a wreath. In the central part of the wreath is the company logo. The ribbon, which connects the 2 sides of the wreath, contains the name of the company. The inner circle in which the wreath is located has a border consisting of small dots. You can make a stamp corresponding to the company using the
MyStampReady stamp maker
.
Date of publication 2020-07-17